Exploring new destinations and gathering new experiences has been a passion of mine since I can first remember. Quite often these adventures are led by the fine end of a fishing rod. When my better half and I were invited along for a 'vacation' stay at a small resort in Costa Rica, I couldn't even imagine the trip without at least a taste of some saltwater casting. To be clear; the vacation was not for fishing. My regular schedule at home consists of enough trips to the water that I didn't want to make our week away completely centered around my obsession. With that said, the countless videos of massive cruising Rooster Fish and thrashing Mahi Mahi have left me drooling over the chance to toss a fly into Costa Rican waters, and this could be it.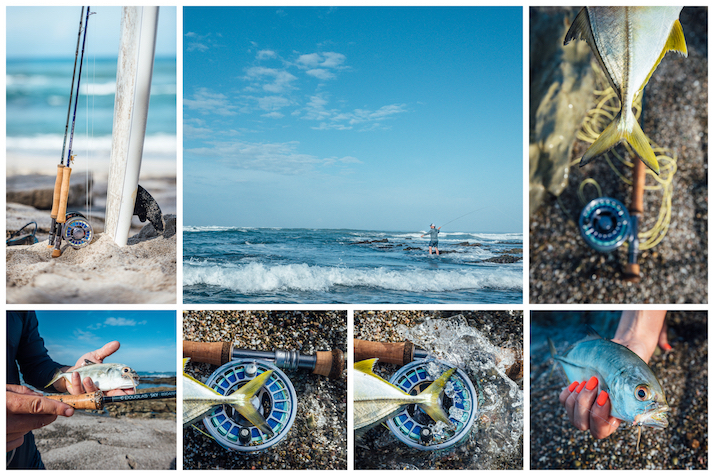 Hunting new water, with new techniques, was an opportunity to obsess over a whole other facet of the sport. I have been on several saltwater trips with conventional gear, but never on the fly. And so my research began. Investigating the best fit rod and reel combos, fly lines, leaders, tippet and flies. For myself, this is one of the biggest points of enjoyment going into a new challenge. A chance to become a better-rounded fisherman. Through hours of Youtube, countless Google searches and constantly picking the brains of anglers far more experienced than myself – the education was on.
After a little bit of research, it was clear that there would be countless species of smaller fish hunting the surf, but in the right spot at the right time there would also be a chance to run into a giant. I was hesitant to go too heavy on rod weight to avoid overpowering the majority of encounters. Yet having enough backbone to be confident fighting a larger fish was also important. After long debate and countless research, I decided it would be best to carry both a 7 weight and an 8 weight rod. I mean when can you have too many rods? I grabbed an 8wt Douglas Sky and the 7 wt LRS. Two rods I would happily fish in salt or in larger fish infested freshwater environments. I knew my opportunities to fish would be seldom but I always like the idea of having a spare. I've seen enough rods break in mind-blowing ways to know having an extra rod that far from home would be 'smart'. Plus, it was not only for my own sake but also would be a treat for any fellow vacationers looking for action behind a rod. Pay it forward. I pounded some concrete outside my house with the 8 weight Sky for feel. Packed my stuff up, stocked a salt themed streamer tin and strapped a Douglas rod tube to either side of my camera pack. We were off.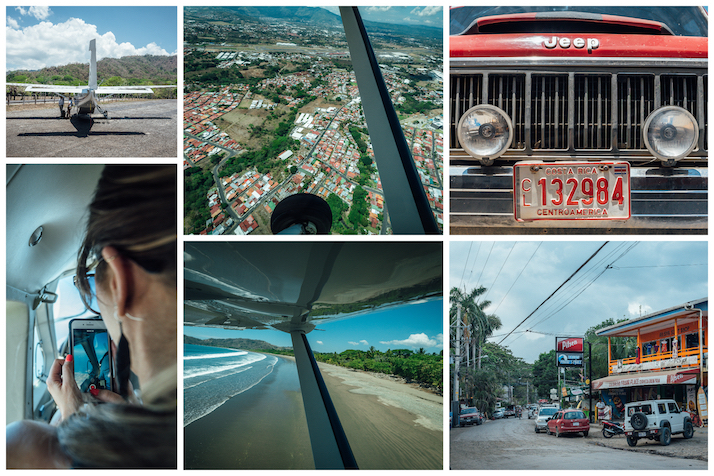 The travel to our resort was an adventure on its' own. We stayed a night in San Jose to wait for a morning flight on a private jumper plane to our destination. The surprise landing strip split a narrow gap in the treeline of an empty beach. The flight was followed by a bumpy 45-minute ride to our final destination. A quick stop for an icy cold beer on the way. The first glance of the beach was memorable, to say the least. With a coconut in hand and two rods whispering in my ear, I couldn't help but crave my first cast. I knew it would be morning before I'd fish, but just having the option left me content. We settled in with a sunset swim and some quality time with our crew for the week. The perfect start to a week away.
The next morning I rose early and headed for the beach. Casting the surf was a challenge. I have thrown plenty of streamers for bass, panfish, and trout – but anybody savvy in saltwater knows the ocean is a different beast to barter with. Our beachfront was highly affected by the tides and rather dangerous in the low periods. Jumping rock to rock quickly became the best option. The surf fish were small but beautiful. Baby sized Jack Crevalle and Bonito relentlessly pestered the fly like it was a total intruder. The knowledge of big fish nearby left me hopeful and the smaller bumps were just enough of a tug for some fun. We had a boat ride and snorkel session scheduled for later in the week, and I was hoping I could convince the captain to get a line wet. With no further fishing plans in place, I felt this would be my best option for some local knowledge of bigger fish.
The boat was more geared towards tourists with snorkels, but it was manned by two salty gentlemen perfectly named Roberto and Clemente (they didn't get the reference). After chatting them up for a while I was excited to hear Roberto was a fisherman more than 300 days a year. We had a distance to travel but he agreed to try and pull in some Mahi on his local trolling set up on the way to our destination. He had never fly fished before but agreed to try and take me around the island we were headed to, a place where he has seen 'Roosters' and 'big big' fish. He did the tomahawk chop with his arm through the air, signaling a fly rod. He told me I was crazy, but I could tell he was as excited as I was.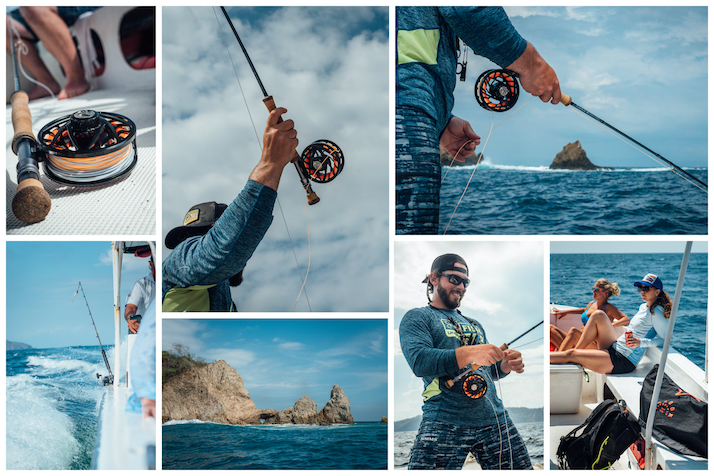 Pulling out his gear was like a trip back in time. His collection of tackle resembled pieces my grandfather had handed down to me in my childhood. Worn by the sun and sea, and the many years of fighting fish. We dropped back an old Flying Fish imitation as an attention grab with a classic soft-bodied skirt jig behind it. Before long we had landed a few young Mahi for lunch and a quick splash of color. The outdated knockoff rod was less than exciting to play a fish on but it got them to the boat. Roberto fileted two of the fresh fish, kept two for the fire and one for home. Fresh sushi is one of my favorite treats and promises of Mahi carpaccio sounded quite alright. A clean filet sliced thin, fresh garlic, salt, pepper, olive oil, and fresh lime. Simple as ever – yet true local fare. The fish was crisp and sweet and as fresh as possible. Near enlightening.
We snorkeled a bit en route to the beach. I rigged up my rod and got ready for my shot at some fast fun. The waters were rough and the time window was narrow, but this was all of the time I had with a boat underneath me. I tied on a Mantis Shrimp pattern with the best knot I know. I quickly stripped out some line and dug into some casts from the front of the boat. It was less than ideal with snorkeling gear below me and people on board, but I emptied a milk crate for a stripping basket and was more than happy to work with it. Roberto pointed right where to cast and I sent my first drop in the bucket.
I paused on the shrimp pattern a second to sink, pulled tight and gave it a quick strip-strip-strip. I paused just long enough to look down at my reel and watch my line suddenly rip tight through the guides and POP! I was confused at first but realized quickly that my first cast warranted a full-speed attack from what my mind still sees as a monster. I brought my line back in, quickly retied a similar pattern and went back for more. My boat mates razzed me about snagging a rock or the boat, but I know what I felt. Each cast afterward came with vicious silver flashes and strikes. The constant pokes and jabs told us it was something smaller and we soon saw the Needlefish ambushing the fly left and right. I hooked several of them, landing a couple in a short amount of time. Long and slender and flashy as swords through the water. Their acrobatics were fun to witness but I ran into nothing but Needlefish for the next twenty minutes. Entirely different from the first strike but unavoidable cast after cast. The waves had started to break harder and our feet were getting unsteady on the deck. They turned the boat back towards our destination and took off into the distance.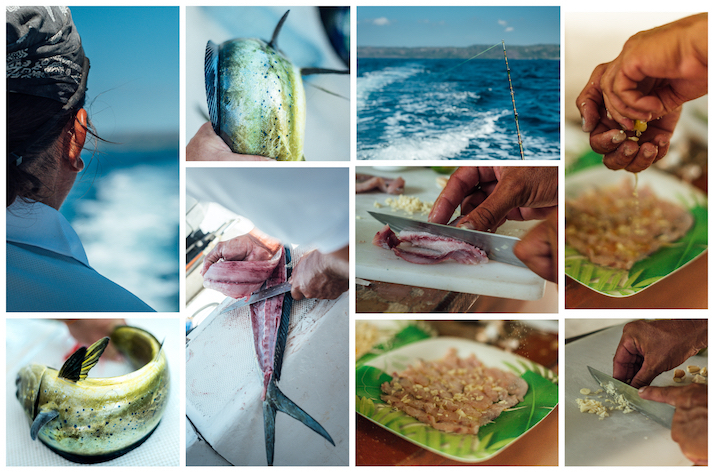 My moment was over
The brief opportunity was all I had asked for, but it was the perfect encounter to send me home hungry. My first cast came with a break-off that coming from the Rocky Mountains felt like it was Jaws himself. In reality; I could have anxiously tied a faulty knot as I and so many anglers have done before. Rushing to get a line in the water because how couldn't you? In my mind though: I'll choose to picture the glorious headdress of a cruising Rooster, 40 mph full bore ahead into my unsuspecting shrimp pattern I purchased in Evergreen, Colorado. A world away fulfilling its destiny in the warm blue waters of Costa Rica. Its destiny was short-lived but then again, it really makes me wonder…
Unfortunately, this story didn't end with a glorious grip-and-grin of me shaded by a monster fish. For that I'm sorry. But the lack thereof brings me to realize once again that that is not what it's all about. I don't fish with silly flies and a weighted line all for the glory of it. The pursuit and the story that we create on the way to pursuing our passions is the true glory. It's my 'why' for picking up a fly rod or a bow and arrow for an even slimmer chance at the grip-and-grin at the end of the story. This trip made me realize that no matter what – I must return. Better prepared, better planned and ready for more. Costa Rica places deep meaning in the term 'Pura Vida', and I look forward to another taste of it in 2020.
LA PURA VIDA = THE PURE LIFE
---
Rob Herrmann is a content creator with a serious passion for the outdoors. He strives to find creative photography and videography solutions to all types of needs. Entirely self taught with a camera, Rob operates as a freelance photographer and writer for all things outdoors.
@RHERRMANNPHOTOG | ROBHERRMANN.MYPORTFOLIO.COM