XMatrix
Spinning and Casting Rod Series
Here at Douglas Outdoors, we knew we would have to develop the best Spinning and Casting Rods to make our mark in a crowded marketplace, so we went to work. Our rod design team, led by Pro Angler Fred Contaoi, built a crisp, dialed-in line of rods.
The Douglas XMatrix Spinning and Casting Rod Series is a truly premium rod series. Highlighted by exquisite actions, designed to cover an impressive range of specific techniques and applications (18 Spinning and 25 Casting). XMatrix Rods feature high-end components top to bottom, inside and out. Made from a proprietary carbon matrix composition, the DXS and DXC Rods feature Fuji Reel Seats, Fuji alconite guides, high-density EVA grips, and graphite inserts. XMatrix Rods feature ground breaking strength-to-weight ratios that most fishing rods on the market can't match. Experience the hyper sensitivity, the light weight, the dialed-in actions and the ergonomic comfort of these rods for yourself. You will be impressed.
FUJI Alconite guides with a brackish/saltwater safe, highly corrosion resistant CC finish. Top of the line ceramic inserts that withstand all lines including braid.
Tip-Top frames are front-welded to avoid tip wrap when using braid.
Superior lightweight, balanced, powerful graphite and hybrid multi-modulus blanks.
High quality FUJI reel seats with hidden thread for all day comfort.
Ergonomically designed, form fitting high density EVA grips.
Wide variety of rod models for nearly every freshwater and inshore salt application,
Platinum colored glare resistant matte finish blanks.
High performance dialed-in actions designed for specific techniques as well as superior fish handling.
Backed by a 5 year warranty with a timely $50 replacement or repair to get the angler back on the water.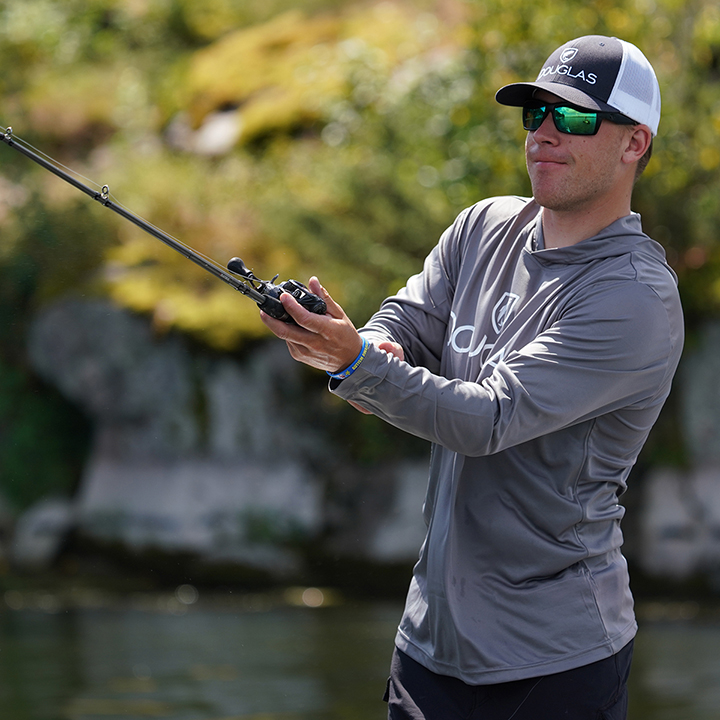 Casting Full Taper Handle
"
If I could make every spinning rod in my lineup a 744XF, I would. These things are hands down the best spinning rod in their lineup. Dropshots? Amazing. Ned Rigs? Outstanding. Small swimbaits? Perfect. Literally any spinning application, this rod excels.
"
"
I have been using my Douglas Rods for over a year now, and put them through seriously heavy use... and they have completely lived up to my expectations. I am slowly replacing my whole lineup with their amazing products. You won't be sorry... they are totally worth the investments.
"
"
I love Douglas Rods and just recently picked up a 7'11" Heavy and have been throwing A-rigs on it all spring. The rod is super strong fit for chucking those heavy baits around without sacrificing any sensitivity. Would recommend if you're in the market for a big swimbait rod.
"
"
Hands down my favorite rod in my arsenal... workhorse for anything with a bit of a thicker gaged hook.
"
"
I just started using Douglas Rods last year and their spinning rods are no joke! I'd challenge you to find a rod with more strength that is as light and comfortable as the XMatrix. I got the 6'10 for drop-shotting and i can't even count how many fish I've caught on that thing. Feels similar to my G-Loomis NRX spinning rod because of the light weight and sensitivity paired with it's strength capabilities.
"