XMatrix

Series
Spinning and Casting Rods
Here at Douglas Outdoors, we knew we would have to develop the best Spinning and Casting Rods to make our mark in a crowded marketplace, so we went to work. Our rod design team, led by Pro Angler Fred Contaoi, built a crisp, dialed-in line of rods.
The Douglas XMatrix Spinning and Casting Rod Series is a truly premium rod series. Highlighted by exquisite actions, designed to cover an impressive range of specific techniques and applications (19 Spinning and +30 Casting). XMatrix Rods feature high-end components top to bottom, inside and out. Made from a proprietary carbon matrix composition, the DXS and DXC Rods feature Fuji Reel Seats, Fuji alconite guides, high-density EVA grips, and graphite inserts. XMatrix Rods feature ground breaking strength-to-weight ratios that most fishing rods on the market can't match. Experience the hyper sensitivity, the light weight, the dialed-in actions and the ergonomic comfort of these rods for yourself. You will be impressed.

Spinning Split Handle (DXS-S1)

Spinning Skipping Handle (DXS-S2)
Spinning Full EVA Handle (DXS-S3)

Spinning Full Carbon Handle (DXS-S4)
Spinning Detachable Full Carbon Handle (DXS-S5)

Casting Split Handle (DXC-C1)

Casting Full EVA Handle (DXC-C2)

Casting Full Carbon Handle (DXC-C3)
Casting Detachable Full Carbon Handle (DXC-C4)
Casting Detachable Front Taper EVA (DXC-C5)
Casting Detachable Full EVA (DXC-C6)

Casting Full Taper Handle (DXC-C7)
FUJI Alconite guides with a brackish/saltwater safe, highly corrosion resistant CC finish. Top of the line ceramic inserts that withstand all lines including braid.
Tip-Top frames are front-welded to avoid tip wrap when using braid.
Superior lightweight, balanced, powerful graphite and hybrid multi-modulus blanks.
High quality FUJI reel seats with hidden thread for all day comfort.
Ergonomically designed, form fitting high density EVA grips.
Wide variety of rod models for nearly every freshwater and inshore salt application,
Platinum colored glare resistant matte finish blanks.
High performance dialed-in actions designed for specific techniques as well as superior fish handling.
Lifetime warranty on all Douglas conventional rods.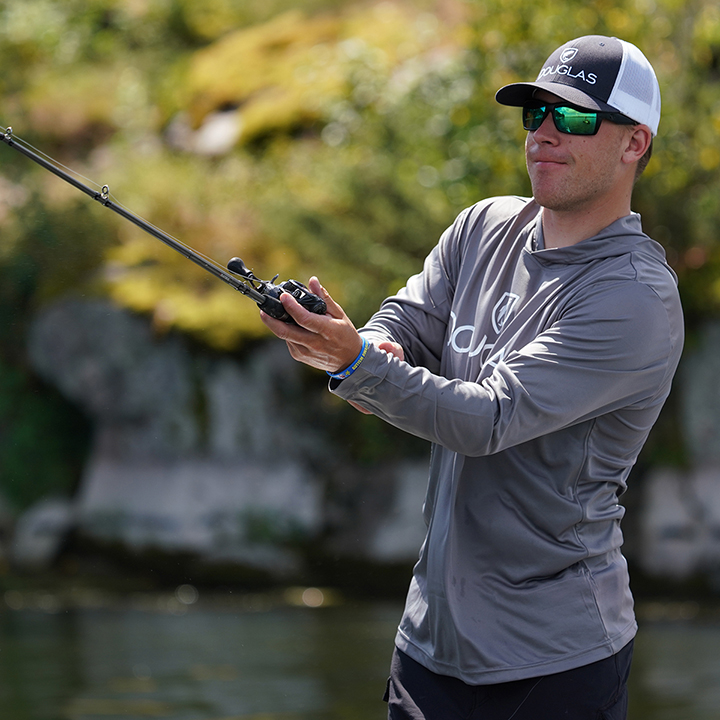 "
Longer rod on tight rivers lets me cover everything with accuracy I have never had with other rods. From Browns to Skamania in these northern Michigan streams, it just can't be beaten.
"
"
I can't say enough good things about the xmatrix 724F casting rod. It has that BFS rod feel to it. You can throw 1/8 oz with distance. This rod also serves as a multipurpose rod. I throw fineese swim baits, tubes, crankbaits, fineese jigs, etc on it. It's a workhorse rod!
"
"
I have used a lot of different spinning rods this one by far beats all the rest you will not be disappointed with your purchase!
"
"
Been fishing with St. Croix for a long time. That was until I fished the Douglas X-Matrix. This rod out preforms all other spinning rods I have used in every way. The sensitivity is crazy! Fishing walleye, I can feel all the short strikes and I know to slow my retrieve. I can not say enough good things about Douglas rods.
"
"
I have used Douglas rods for the past two years. These are by far the best made rods on the market for many reasons. The ergonomics are simple, but effective. The sensitivity, and durability are unmatched, with enough backbone to get any fish into the boat. The DXS 724 XF is my go to all around rod, and performs beyond expectation when I need to throw a football jig, all the way to being sensitive enough to use as a drop shot rod. The DXS 763 XF: I challenge you to find a better rod for throwing a marabou jig. You won't find one. The castability and feel of this rod is absolutely insane. It literally speaks smallmouth. Get one of these in your hands, and you will never look back!
"
---
★★★★★

based on

24

reviews.
Overall rating:
View all reviews