SKY
Fly Rod Series
The Douglas SKY Fly Rod Series is at the pinnacle of fast action, superior performance salt and freshwater fly rods. This series of versatile four piece rods is constructed with patented next generation nano carbon xmatrix materials. SKY represents award winning performance in rods that possess ground breaking strength-to-weight ratios. The Douglas SKY Fly Rod Series has built a reputation for featuring finely crafted actions capable of producing pin point accuracy, and longer than average casts with seemingly effortless casting.



Unique tapers combining moderate fast and fast actions. Quick recovery for effortless casting efficiency.
Built with Fuji Torzite titanium stripper guides, REC titanium recoil guides, AAAA flor-grade cork grips, burled blackwood reel seat, double uplocking rings and nylon bushings.
Winner of George Anderson's Yellowstone Angler 6wt Shootout.
Designed with next generation nano carbon XMatrix materials.
6S-12wt designed with faster saltwater actions.
Specialty European nymphing rods in 10' and 11', 2-4wt.
Packaged in aluminum tube and breathable moisturewicking sock.
Lifetime warranty on all Douglas Fly Rods.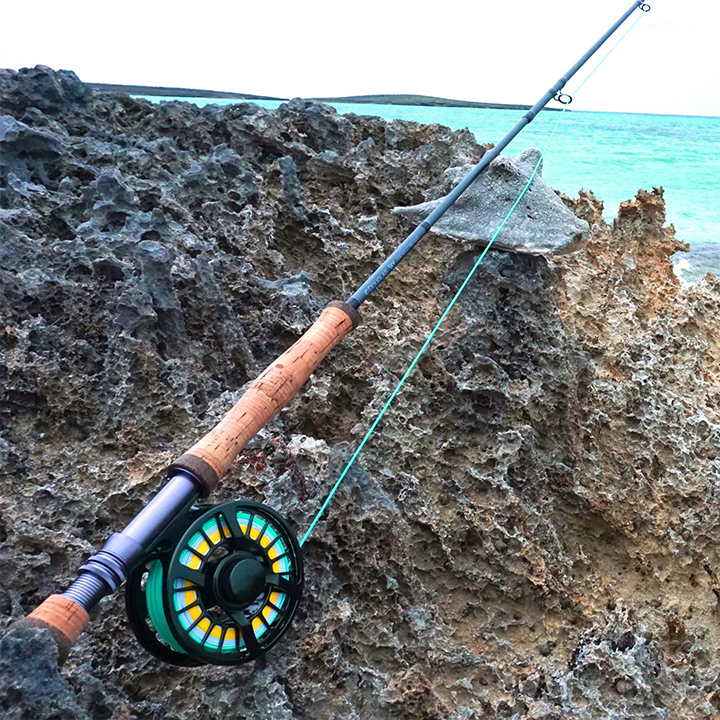 "
Best 5wt Switch Ever!! This is the most responsive and remarkably built switch rod in any class. Beyond the top of the line componentry: (Fuji Torzite Titanium Striper Guides, REC Titanium Recoil Guides, AAAA flor grade cork, burled blackwood reel seat, double uplocking rings with nylon bushings) casts like a dream and fishes under any conditions with a wide variety of fly patterns. I use for rivers, streams and ponds, in either spey or overhead casting the rod simply does what you want it to do.
"
"
I wanted a 6wt with a fighting butt. I picked up a Douglas Sky 6wt. I went with the S (salt) version for the butt. Same rod as the fresh but aluminum seat and wider guides. I have a slew of premium rods that I fish. I have never experienced a rod where the difference was so dramatic. This rod felt light as a 4wt (used super light Lamson reel as well). Despite the weight it had the backbone through the wind and big fish (including this PB brown). I could hit my spots at any distance with minimal effort. We fish sun up to sun down and the weight and reduction of false cases with this rod made a huge difference. I was blown away by this rod. As mornings were in the teens I also think the wider Guides reduced icing and de-iced easier. Awesome rod!
"
"
I love Steelhead. It's hard to not love almost every aspect of the fish, but being from Montana it can be hard to scratch that itch that comes with an addiction to chrome. So I started swinging for trout, and soon found out how effective it was for chasing the big, aggressive fish that inhabit Western Montana and its really become my favorite way to target trout. The Douglas SKY 11' 4" 5 wt has become my go-to set up for all types of applications when it comes to Trout Spey. The rod can really do it all, from throwing heavy sink tips with big streamers to the light poly leaders and soft hackles. I've been able to use this stick all year long, just adapting to the situation at hand. A 350-grain Skagit head with your favorite sink tip will deliver pretty much anything you will want to swing. I have found the 5wt to be just right for our fish of Western Montana, and the length of the rod lending itself closer to a traditional Spey rod than the shorter trout Spey rods of today. The fast action helps push your casts out there but has just enough softness in it to feel the subtle takes that happen with spey fishing. This thing is a cannon and is truly a joy to fish, If you've been wanting to get into Trout Spey this rod will not disappoint for years to come.
"
"
I broke the tip section of my SKY 9' 6wt. I received excellent customer service on my warranty claim! I also have liked the performance of the rod very much.
"
"
I have the SKY 6wt. All I can say is WOW. It's amazing to cast. Keep up the top job and I will be soon saving for a 3 or 4wt.
"