LRS
Spinning and Casting Rod Series
The Douglas LRS Spinning and Casting Rod Series was truly developed with value in mind. The LRS was designed to be the workhorse addition to the fisherman's arsenal. This series offers anglers stunning looks, high-end components, superior strength-to-weight ratios and thoroughly engineered technique-specific actions at an affordable price tag. LRS Rods features tactical sensitivity coupled with the durability that anglers at the highest levels expect from their equipment.
CC FUJI Fazlite guides with a matte finish. Saltwater safe, highly corrosion resistant with long wear inserts that withstand all lines including braid.
Lightweight yet durable graphite and hybrid multimodulus blanks.
High quality reel seats with hidden thread for all day comfort.
Ergonomically designed, form fitting high density EVA and cork grips.
Beautiful deep blue finished blanks and wraps.
Wide variety of rod models for nearly every freshwater and inshore salt application.
Technique specific dialed-in actions.
Balanced and lightweight inhand feel.
FUJI Fazlite Tip-Top with CC finish. Tip-Top frames are welded on the front of the guide to avoid tip wrap when using braid.
Backed by a 5 year warranty with a timely $50 replacement or repair to get the angler back on the water.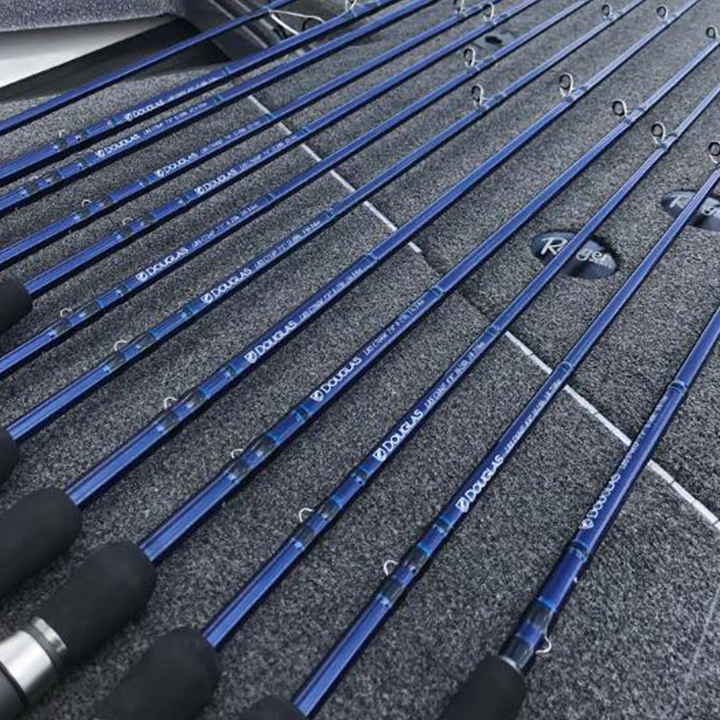 Spinning Split Cork Handle
Spinning Full Cork Handle
Spinning Full Synth Handle

Casting Split Cork Handle

Casting Full Synth Handle
"
The blue blank of the Douglas spinnerbait rod stands out among a field of cookie cutters, but it's the action and versatility that really sets it apart. Lure ratings on a handle are often generous, but this rod excelled at all ranges of the spectrum—from the smallest finesse spinnerbaits up to hard-thumping giants that'll rattle your fillings out. It's a wonderful blend of sensitivity and give with a perfectly-sized handle and premium components from tip to butt. During the test I flicked a 3/16 ounce finesse model around boat slips in the morning, and then used it in the afternoon to slow roll a spinnerbait that weighed ¾ ounce, and in both cases I felt like I had the perfect rod. Everyone that fished the Douglas LRS liked the rod's perfectly-sized handle, and appreciated the premium components. The Douglas LRS took the best overall award because of its ability to throw everything from finesse to deep working spinnerbaits and it doesn't sacrifice feel for versatility—it's a rare rod that fishes everything well.
"
"
If you're looking for a chatterbait, heavy worm, punching, or jig rod look no further. This rod is very stout yet sensitive and lightweight.
"
"
I have the 6'8" MH XF rod. I use it for my topwater applications such as whopper ploppers and walking/popping baits. I have it paired with a lews hypermag. This is the lightest setup I have ever held. I can cast heavy whopper ploppers all day with no wrist fatigue. The rod is beautifully crafted, and very comfortable in hand. It casts amazing. I can absolutely bomb whopper ploppers and even smaller lighter poppers. It also has great sensitivity after a blow-up to feel if the fish got a hold of the lure or not. I have absolutely no complaints with this rod. If you're looking for a light, sensitive, and comfortable rod then these are a great choice for the price. I also have an LRS spinning rod and fly rod that I love as well. Give Douglas Outdoors a try, you will not be disappointed!
"
"
The LRS C704M is a sweet reaction bait rod! Love this rod!!! Think squarebill crankbaits and small-medium diving cranks. Has a soft glass like tip with plenty of spine behind it to penetrate a hook home. It's that true happy medium. Not too soft-not too stiff. Perfect rod for baits with trebles!
"
"
Absolutely great rods. Well built, and sensitive. I use them for everything. They make great swim bait rods and plug rods for steelhead!
"