LRS

Series
Spinning and Casting Rods
The Douglas LRS Spinning and Casting Rod Series was truly developed with value in mind. The LRS was designed to be the workhorse addition to the fisherman's arsenal. This series offers anglers stunning looks, high-end components, superior strength-to-weight ratios and thoroughly engineered technique-specific actions at an affordable price tag. LRS Rods features tactical sensitivity coupled with the durability that anglers at the highest levels expect from their equipment.
Spinning Split Cork Handle
Spinning Full Cork Handle
Spinning Full Synth Handle
Spinning Centerpin Handle
Spinning Detachable Rear Taper Synthetic Handle
Casting Split Cork Handle
Casting Detachable Rear Taper Synthetic Handle
Casting Full Synthetic Handle
Casting Detachable Full EVA Handle
Casting Retractable Synthetic Handle
Casting Rear Taper Full Synthetic Handle
CC FUJI Fazlite guides with a matte finish. Saltwater safe, highly corrosion resistant with long wear inserts that withstand all lines including braid.
Lightweight yet durable graphite and hybrid multimodulus blanks.
High quality reel seats with hidden thread for all day comfort.
Ergonomically designed, form fitting high density EVA and cork grips.
Beautiful deep blue finished blanks and wraps.
Wide variety of rod models for nearly every freshwater and inshore salt application.
Technique specific dialed-in
actions.
Balanced and lightweight inhand feel.
FUJI Fazlite Tip-Top with CC finish. Tip-Top frames are welded on the front of the guide to avoid tip wrap when using braid.
Lifetime warranty on all Douglas conventional rods.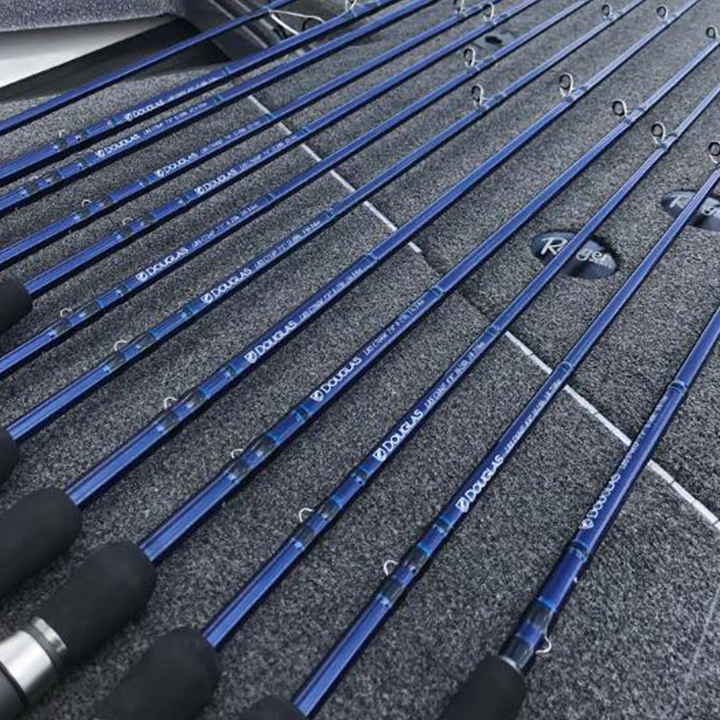 "
I run a saltwater fishing charter out of New York and use these rods for snap jigging for striped bass and bucktailing for fluke. Excellent action on these rods and enough back bone to subdue stripers 30lbs and up. My customers love these rods and so do I. Thanks Douglas.
"
-
Saltydogfishingchartersllc
"
fished with it all last summer great feel own several with my son
"
"
Have been using 7'Medium for six months now, the rod performs flawless. The nice blue blank got a lot of attention on the lake.
"
"
The LRS C704M is a sweet reaction bait rod! Love this rod!!! Think squarebill crankbaits and small-medium diving cranks. Has a soft glass like tip with plenty of spine behind it to penetrate a hook home. It's that true happy medium. Not too soft-not too stiff. Perfect rod for baits with trebles!
"
"
The Douglas LRS series is the real deal. I love the strength and durability of these blanks. I fish many lakes with Big Fish and heavy cover and these are perfect for what I need.
"
---
★★★★★

based on

25

reviews.
Overall rating:
View all reviews