Upstream Plus
Fly Rod Series
The Douglas Upstream Plus Fly Rod Series provides more power than the Douglas Upstream. It gives the angler a solid up-locking reel seat for fighting larger fish. Most importantly, it provides a slightly faster action that makes the Upstream PLUS a great choice for people who want enough muscle to land the fish of a lifetime and enough finesse to use the tippet and flies required in tough, technical situations.
The Douglas Upstream Fly Rod Series are very special rods. It's just the right size, with just the right flex. If you need to protect light tippets, if you're casting the whole line or short distances, if you're fishing to spooky trout where delicacy is required, if you need precise cast between 20 and 70 feet, these rods can get it all done. The Upstream Plus Fly Rods are a casters dream. The time and effort spent fighting with your rods to make the right cast is a thing of the past.

Modern, progressive actions for refined performance in all trout fishing environments.
Spigot ferrules for maximum energy transferability.
Designed to be the ultimate presentation rod, unmatched in grace and feel.
Vintage look and feel, designed with the benefits of the most modern nano-resins and components.
Built with one of a kind actions reminiscent of finely crafted bamboo.
Natural tonkin bamboo color with matte finish and clear wraps to blend naturally with the surrounding environment.
Traditional spigot ferrules.
Packaged in a compact aluminum tube and sock.
Lifetime Warranty on all Douglas Fly Rods.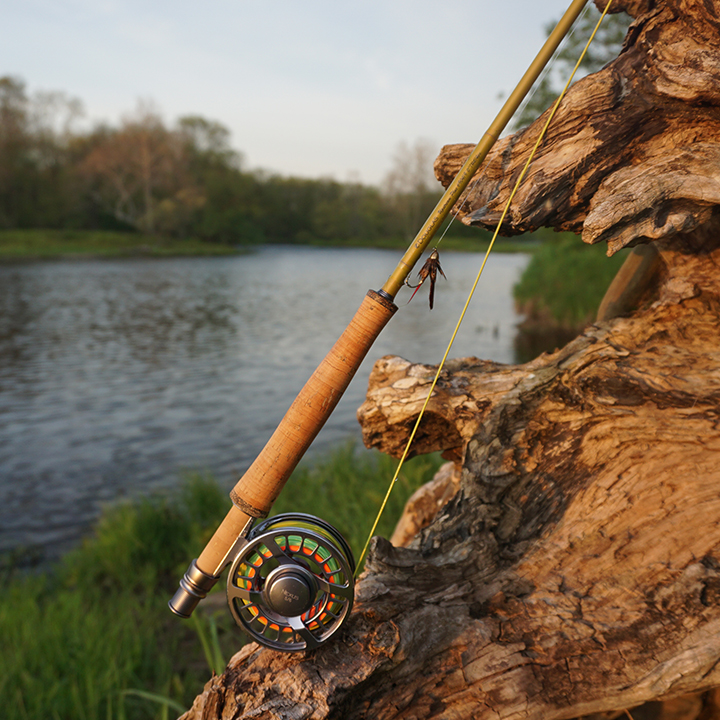 "
The Upstream Plus series of rods are simply a joy to fish. There are a few rods I get really excited to use, and this is one of them. The action of this rod sits right there in the middle, not the noodle-like feel that comes with a glass rod, yet not fast and furious like a lot of the newer rods coming out in this day and age. Being a nine-foot five-weight, this rod can really do a lot, from slinging small streamers and light nymph rigs, but where this rod shines, in my opinion, is its dry fly fishing ability. The rod has enough power to push the fly where it needs to go, yet has a suppleness to it that allows for precise, subtle presentations needed for picky trout. To top it off, its gold finish, full wells grip, and old school feral design make it just as beautiful to look at as it is to fish.
"
"
Found this 6 piece graphite pack rod and glad I did. Packs up in 17" Aluminum Tube. Fits in my backpack. Fun to fish. easy to cast. Looks Old school. Highly recommend this!
"