LRS
Fly Rod Series
With the Douglas LRS Fly Rod Series, Head Rod Designer Fred Contaoi has brought high-end performance to a price point for every angler, redefining the value expected from a fly rod without the premium price tag. Each model has been finely tuned to find the perfect action that meets the needs of veteran anglers and beginners alike.
The Douglas LRS Fly Rod Series features an eye catching deep blue finish complemented by a nickel finished stainless stripping guide, hard chrome snake guides, quality cork grips, and a carbon reel seat with double uplocking rings. With models designed for spinning, casting, fly fishing, float fishing and trolling; the LRS Fly Rod Series is not only is bound to be a flagship for Douglas for years to come, but to be one of the deepest lineups in the entire market.
Light weight, highly sensitive blanks constructed with dura-resins for above average strength and durability.
Carbon fiber insert reel seat with anodized up lock for reduced weight.
Cork grip with rubber-cork edges for durability.
Refined actions for better casting and fish handling.
10'2" piece models feature Heavy power for landing large lake, river and sea species like salmon, steelhead, striped bass, bluefish, albacore, and other inshore beasts.
Packaged in a Cordura tube with integrated pockets. 10'2" piece models are packaged in embroidered cloth rod sock with interchangeable 2" and 4" fighting butts.
Lifetime Warranty on all Douglas Fly Rods.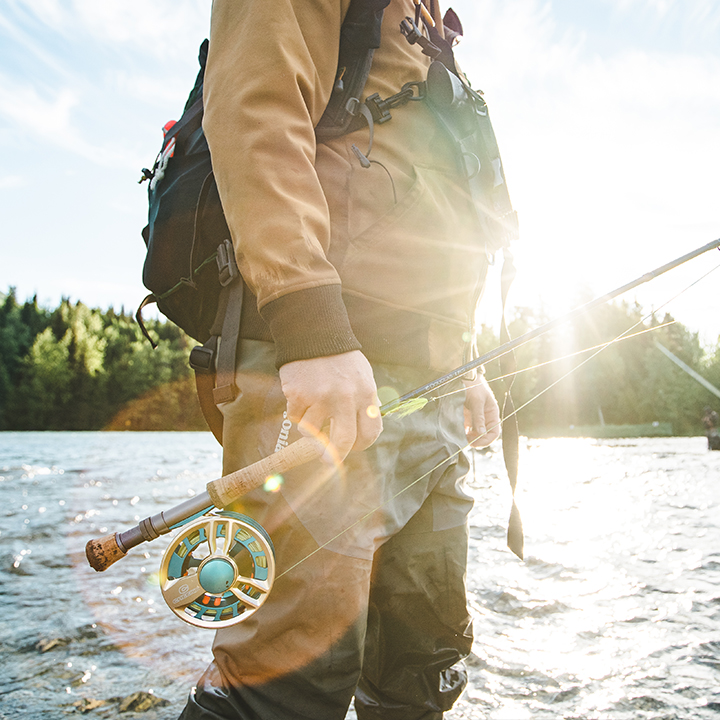 "
The Douglas Outdoors 9′ 5wt LRS is one of the most impressive budget-friendly rods I've ever seen. I'd put it neck-and-neck with the Orvis Clearwater, and even go so far as to say the Douglas is better fishing within 20 feet than the Orvis. The LRS features such a pleasant progressive action that it's just fun to cast, and I love the blank color. While I wish the cork burls were gone, and the reel seat hardware downsized, there's not one thing I can point to that detracts from the rod's performance itself. Sure, it has a heavier swing weight than I'd like, but remember – it's a $250 rod. And it's a damn good one, at that.
"
"
Very good rod for the money. Light weight and handles very well.
"
"
After 2 days of practice performing switch cast utilizing 350 Skagit short head I was able to cast well on the big water Delaware right River catching small mouth bass. Rod load easily and is built well. The interchangeable rear grip allowed be to use two hand or single hand a traditional 8 wt wf fly line.. I suggest reel spooled with Skagit head and spear with WF line for maximum versatility.
"
7wt 2 piece & 8wt 4 piece
★★★★★
"
I love these rods, I currently own the 7 wt 2 piece and the 8wt 4 piece fly rods for great lakes trout and salmon fishing. These rods fish like they cost 3 times what they actually do, I handle big king salmon, brown trout, and steelhead with ease! You will not be disappointed with this product!
"