SKY G
Fly Rod Series
The distinguished Douglas SKY G Fly Rod Series leverages technology in its quest to achieve fly rod perfection. It's wonderfully lightweight and eminently castable, and the addition of revolutionary G-Tec platelets takes it over the top.
Altogether, you'll find the Douglas SKY G Fly Rod Series offers superb dampening and recovery, near-effortless casting, accuracy, and outstanding durability. Innovative top-of-the-line components include: REC Titanium Cerecoil stripper guides with zirconia inserts, REC Titanium recoil guides, AAAA flor grade cork, a skeletonized aluminum reel seat, double uplocking rings with nylon bushings, and burled blackwood inserts. Includes a plush rod sock and aluminum tube
Winner of Yellowstone Anglers 202 5wt Shootout "Best Overall Rod" with 30 plus 5wt rods tested.
Distinctly effortless casting and increased sensitivity on some of the industries lightest blanks and swing weights in it's class.
REC Titanium shape memory Cerecoil stripper guides with zirconia inserts, REC Titanium recoil guides.
A skeletonized aluminum reel seat, double uplocking rings with nylon bushings and burled blackwood inserts.
Moderate-fast action, multi-modulus blanks constructed with G-Tec platelets over a glare-resistant platinum color with G-Armour coating.
AAAA flor-grade cork.
Section alignment dots featuring rod line weight.
Packaged with powder coated aluminum tube and plush moisture wicking rod sock.
Lifetime Warranty on all Douglas Fly Rods.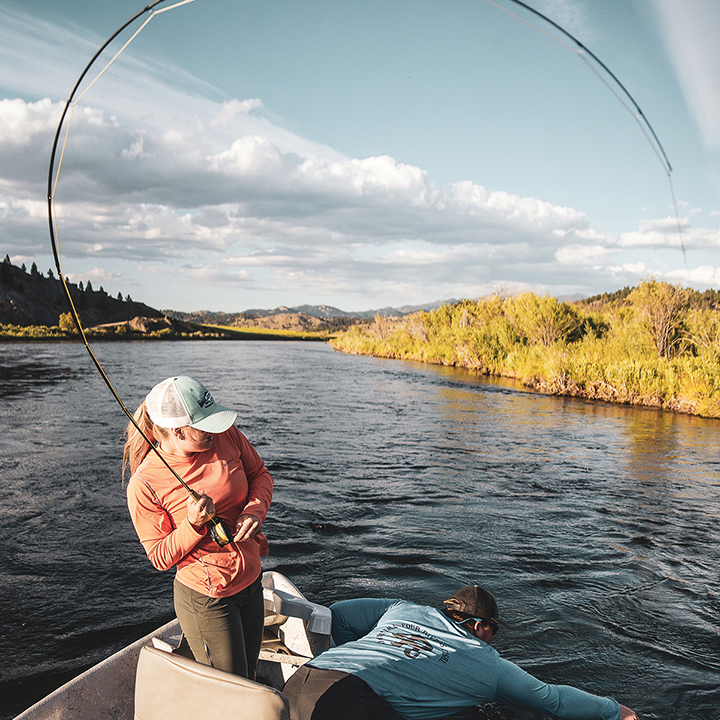 "
Douglas Sky G Performs Under All Circumstances The Douglas Sky G 9 foot 5 weight weighs only 2.7 ounces and has an incredibly light swing weight. However, this rod can cast streamers down to small parachutes on 15+ foot leaders with ease. The cork grip is of high quality and feels terrific. I've fished this rod all Spring and through mid Summer and it does EVERYTHING I ask of it. 30mph winds, no problem. Long leaders and small flies, no problem. Big fish on light tippet, no problem. It's a terrific rod and has both the feel and backbone I need.
"
"
It's Sooooo Good! This review is for the 8'6" 4 weight (I've also cast the 9' 6 weight, which is also really good, but in my opinion not as exceptional). This rod is pure butter. Hell, it might be better than butter. Bacon? Can a rod be bacon? This thing throws really nice loops. Soft, delicate loops. But not weak loops. I can throw the 8'6" 4 weight 70 feet without much effort. 50-ish without a haul. And it is super precise in short. Super light. Super technical. Easy to land softly. The rod is very competent with all of the usual dry fly tricks (reach mends, parachute casts, etc. etc.). I miss the last 6" on roll casts and mends, but it's more than a fair trade compared to a 9" 4 weight. If I was forced to nitpick about this rod, I don't love the rod sock. It's bulky. But, that's it! That's a first world problem (or whatever is an even lamer complaint than a first world problem). Sure, I'd appreciate it a hair more if it was made in the USA. But, again, that's small potatoes. It's a super fishy rod for a fair (albeit not cheap) price. I can't imagine anyone being disappointed in this rod.
"
"
Purchased sky g a month ago. Own 4 sage rods and I prefer the sky. Light weight and a great dry fly rod.
"
"
My first impression of this rod in action was its light weight and sensitivity which are more in line with a 3-weight than a 5-weight. It's dampening is incredibly fast – not in the broomstick fast kinda way but more like a quicksilver super hero way. A fly shop buddy of mine pegged it perfectly, "Fast with feel and accuracy". Apparently that's what modern rod builders strive for. Well the dude who designed this rod got that right and then some. The sensitive casting power from close in to full line distance ( fly fishers just can't resist that parking lot test) is going to make you imagine you're not far off the standard of Joan Wulff or Tim Rajeff. It is so sensitive that even small fish are going to make you ride by the seat of your pants with excitement. But the thing that really sets it apart is its accuracy and I'm not talking about the parking lot test. In real life fishing situations with wind (the curse) and obstacles and space limitations, this rod delivered and took my fishing to the next level.
"
"
The Sky G 8'6″ 4wt is everything you want your 4wt fly rod to be. It's light, has no swing weight, protects light tippets, and is deadly accurate. It's an absolutely fun rod to fish, which is a factor that's hard to quantify in a review. The best way to say it is how the late Tom Morgan described fly rods to me before he died. Tom said that any good fly rod should be a good fishing rod; that is, it does its job, and you have fun using it. The Sky G is flat-out fun, and I daresay it's a rod that Tom would have liked. I've fished and reviewed a lot of rods in my writing career, and it's rare to have one stand out with such force like the Sky G.
"
"
We're pretty confident this is one of the best 5wt rods on the market right now. And if its first-place finish in Yellowstone Angler's 5wt shootout isn't enough to convince you, the componentry and industry-leading blank technology should win you over. If you're looking for a versatile rod with lightweight power and finesse, this is your rod.
"
"
Trout fishers were impressed with the SKY G when Douglas Outdoors came out with 4- and 5-weight models in 2020, but the company's premium rod seemed a little bit like a teaser or an appetizer. It was delicious, but where was the rest of it? Finally, Douglas Outdoors has added an 8-weight to the SKY G family to whet the appetites of saltwater fly fishers. After testing in on the bonefish flats and mangrove channels of Boot Key and Coupon Bight, I believe it will leave saltwater fly fishers wanting even more.
"
"
I've fished this rod the last several months and couldn't be more happy. I'd call it medium fast action that provides lots of feedback but with lots of power in the lower third of the rod. This is a rod that is great short to mid-range but with an extra gear when you need to punch out some line. It is a very light weight rod with the lightest swing weight I've ever felt in this category of fly rod. If you want a pure power rod this is not for you but it you want an all around rod that does almost everything well with plenty of feel you need to look at this rod.
"