SKY G

Series
Fly Rods
The distinguished Douglas SKY G Fly Rod Series leverages technology in its quest to achieve fly rod perfection. It's wonderfully lightweight and eminently castable, and the addition of revolutionary G-Tec platelets takes it over the top.
Altogether, you'll find the Douglas SKY G Fly Rod Series offers superb dampening and recovery, near-effortless casting, accuracy, and outstanding durability. Innovative top-of-the-line components include: REC Titanium Cerecoil stripper guides with zirconia inserts, REC Titanium recoil guides, AAAA flor grade cork, a skeletonized aluminum reel seat, double uplocking rings with nylon bushings, and burled blackwood inserts. Includes a plush rod sock and aluminum tube



Winner of Yellowstone Anglers 5wt Shootout "Best Overall Rod" with 30 plus 5wt rods tested.
Distinctly effortless casting and increased sensitivity on some of the industries lightest blanks and swing weights in it's class.
REC Titanium shape memory Cerecoil stripper guides with zirconia inserts, REC Titanium recoil guides.
A skeletonized aluminum reel seat, double uplocking rings with nylon bushings and burled blackwood inserts.
Moderate-fast action, multi-modulus blanks constructed with G-Tec platelets over a glare-resistant platinum color with G-Armour coating.
AAAA flor-grade cork.
Section alignment dots featuring rod line weight.
Packaged with powder coated aluminum tube and plush moisture wicking rod sock.
Lifetime Warranty on all Douglas Fly Rods.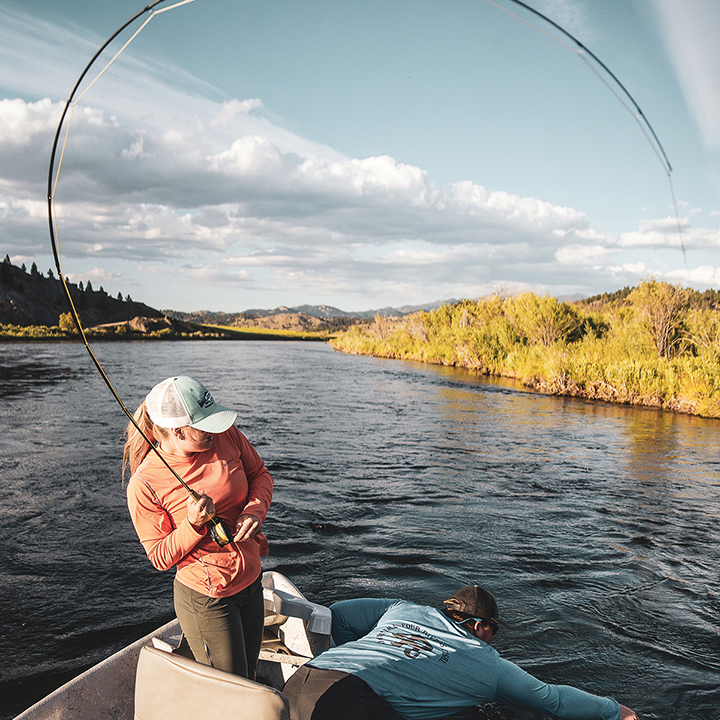 "
My new favorite rod… it's eclipsed my Orvis H2 and I've been an Orvis guy for 30 years. This rod is an absolute blast to cast. It's handled brook trout and salmon in Maine, throwing streamers and indicator rigs, and even throws #18 dries with absolute pinpoint accuracy. It's been a killer smallmouth rod throwing poppers. I find I reach for it more often than any other rod. Cannot say enough how happy I am with this rod.
"
"
A quick note of thanks and praise. I just purchased Sky G 5 wt. 9 ft. fly rod from Precision Fly & Tackle via mail order. I had done quite a bit of research on fly rods and had personally seen/handled many rods of equal price and quality to the Sky G in my search. While I was not able to see/handle the Sky G and considered purchasing another brand, none the less I purchased the Douglas Sky G based on reputation. Upon receipt of the fly rod the joy of my purchase of the rod and its overall quality was overshadowed by an aesthetic blemish on the cork handle. Admittedly it was a minor non-functional blemish but none-the-less disappointing. The blemish was the result of peeling off the warning label' affixed to the handle. I debated what to do and thought it probably best to suck it up and be happy with the new rod. But having seen other fly rods firsthand and the workmanship of those comparable $800 rods, the disappointment of the blemish was disheartening and very disappointing. So, I reached out to you via the contact/email portal on your web page and noted my disappointment. Within an hour I received an email, voice mail and text message from Kevin Johnson, your National Sales Manager. Before I could say anything to him, Kevin assured me you/he would make this right and would replace the handle section of the rod, no questions asked. I was embarrassed to be complaining about an aesthetic blemish but Kevin was understanding and said not to think twice about reaching out to you with my disappointment. Had a nice chat with Kevin who certainly represents Douglas Outdoors in a professional, personal and understanding manner. So, kudo's to Douglas Outdoors and to Kevin. I can't thank you enough in the manner in which you handled this. You truly stepped to the plate and made the situation right. I will certainly let my fishing friends know of your exemplary handling of this.
"
"
Douglas Sky G Performs Under All Circumstances The Douglas Sky G 9 foot 5 weight weighs only 2.7 ounces and has an incredibly light swing weight. However, this rod can cast streamers down to small parachutes on 15+ foot leaders with ease. The cork grip is of high quality and feels terrific. I've fished this rod all Spring and through mid Summer and it does EVERYTHING I ask of it. 30mph winds, no problem. Long leaders and small flies, no problem. Big fish on light tippet, no problem. It's a terrific rod and has both the feel and backbone I need.
"
"
It's Sooooo Good! This review is for the 8'6" 4 weight (I've also cast the 9' 6 weight, which is also really good, but in my opinion not as exceptional). This rod is pure butter. Hell, it might be better than butter. Bacon? Can a rod be bacon? This thing throws really nice loops. Soft, delicate loops. But not weak loops. I can throw the 8'6" 4 weight 70 feet without much effort. 50-ish without a haul. And it is super precise in short. Super light. Super technical. Easy to land softly. The rod is very competent with all of the usual dry fly tricks (reach mends, parachute casts, etc. etc.). I miss the last 6" on roll casts and mends, but it's more than a fair trade compared to a 9" 4 weight. If I was forced to nitpick about this rod, I don't love the rod sock. It's bulky. But, that's it! That's a first world problem (or whatever is an even lamer complaint than a first world problem). Sure, I'd appreciate it a hair more if it was made in the USA. But, again, that's small potatoes. It's a super fishy rod for a fair (albeit not cheap) price. I can't imagine anyone being disappointed in this rod.
"
"
Purchased sky g a month ago. Own 4 sage rods and I prefer the sky. Light weight and a great dry fly rod.
"
---
★★★★★

based on

10

reviews.
Overall rating:
View all reviews