DXF
Fly Rod Series
Not only did they earn the Best Midpriced Rod award from George Anderson's Yellowstone Angler, the Douglas DXF Fly Rod Series is finished with the highest-quality components. High-modulus blanks deliver strength and modern actions that are sure to add precision and grace your presentation skills. XMatrix carbon technology offers a lightweight feel and a sensitivity that alerts you to the softest takes. The extensive lineup of the Douglas DXF Fly Rod Series has a dialed in taper/action tailored to perform in just about every freshwater and saltwater scenario in fly fishing.




Versatile range of lengths and weights covering freshwater, saltwater, nymphing, and switch.
Multi-modulus blank construction, optimizing action in the rods.
XMatrix carbon materials for unbeatable weight and sensitivity.
Finished with high quality components, AAA cork grips, burled wood reel seat, SIC hard chrome snake guides, matte green finish.
Specialty European nymphing rods in 10' and 11', 2-5wt.
Saltwater rods in 7-12wt.
Awarded "Best Mid Priced 6wt, 5wt, and Best Trout Switch Rod" by George Anderson's Yellowstone Angler Shootouts.
Packaged with cordura tube and cloth sock.
Lifetime Warranty on all Douglas Fly Rods.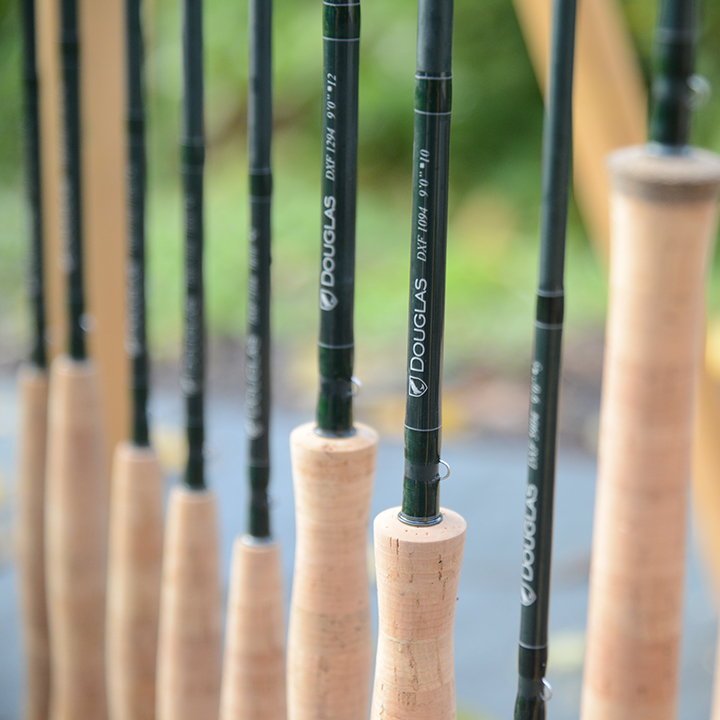 "
I bought the 9'#5 DXF for my wife's Christmas present. I currently own the 9'#5 Sky and a 10'#4 euro DXF. We finally had a chance to get out on a river this past weekend and on her 2nd cast she got a beautiful 22" rainbow. The rod handled it with ease. It is a very forgiving rod as she doesn't get to fish as much as I do. She is able to cast it and even get a great roll cast and put the fly where she needs it. I would highly recommend is rod to anyone looking for a GREAT mid priced fly rod.
"
"
Whether you're new to fishing and in the market for your first rod or just getting another to add to your collection. This is another great rod buy Douglas. The DXF has the ability to deliver accurate casts over short to medium distances which makes it an ideal rod for most. Being classed with a moderately fast action it is more a true medium if compared to the SKY. This gives the fisherman the versatility to cast everything from a dry to a streamer. Looking at the DXF as a whole I would say it's a great all-around rod and it's a great purchase when compared to other rods in its price range. Well done Douglas the DXF will make many an angler very happy landing fish after fish.
"
"
The 9'5wt DXF is one of the more impressive mid-priced rods I've fished. The blanks are rolled in Korea and quality is on par with other mid-priced rods, even some that produce their blanks domestically. It has the backbone necessary to play and fight large fish, but a soft-enough tip to avoid breaking off light tippets. If you prefer slower rods or are looking for a rod for delicate presentations of tiny dry flies, you'll likely find better choices elsewhere. But as a do-it-all performer, the DXF makes a worthy addition to a rod collection. In fact, few rods fish as well as the DXF without compromising quality or demanding a price tag similar to my mortgage payment.
"
DXF 11' 3wt – Euro Nymphing Rod
★★★★★
"
Douglas put together an absolute winner with the DXF. It's a lively, fun, light, well-built Euro nymphing rod that fishes better than sticks twice its modest $395 price. I wish the reel seat were different, and guide spacing could be improved, but overall, this is just about the best Euro nymphing rod I've fished to date.
"
"
The first Euro rod I bought myself was a Douglas DXF 11′ 3-weight. I still have it and still fish it regularly. Douglas makes some of the best rods on the market (I'm in love with their Sky G series) and the DXF offers exceptional performance at its price point. The price varies slightly depending on which model you get, although I would have to recommend the 11′ 3-weight. Even on smaller streams, the extra reach of the rod doesn't get me tangled up in trees any more than usual. What I love most about the DXF, though, is the reserve power packed into the lower sections. Hook into a big fish with this rod, and you'll have no problem steering it through heavy current or away from logjams. Add to that its excellent build quality, and it's easy to see why the DXF has so many devoted fans.
"