DXF
Fly Rod Series
Not only did they earn the Best Midpriced Rod award from George Anderson's Yellowstone Angler, the Douglas DXF Fly Rod Series is finished with the highest-quality components. High-modulus blanks deliver strength and modern actions that are sure to add precision and grace your presentation skills. XMatrix carbon technology offers a lightweight feel and a sensitivity that alerts you to the softest takes. The extensive lineup of the Douglas DXF Fly Rod Series has a dialed in taper/action tailored to perform in just about every freshwater and saltwater scenario in fly fishing.
Versatile range of lengths and weights covering freshwater, saltwater, nymphing, and switch.
Multi-modulus blank construction, optimizing action in the rods.
XMatrix carbon materials for unbeatable weight and sensitivity.
Finished with high quality components, AAA cork grips, burled wood reel seat, SIC hard chrome snake guides, matte green finish.
Specialty European nymphing rods in 10' and 11', 2-5wt.
Saltwater rods in 7-12wt.
Awarded "Best Mid Priced 6wt, 5wt, and Best Trout Switch Rod" by George Anderson's Yellowstone Angler Shootouts.
Packaged with cordura tube and cloth sock.
Lifetime Warranty on all Douglas Fly Rods.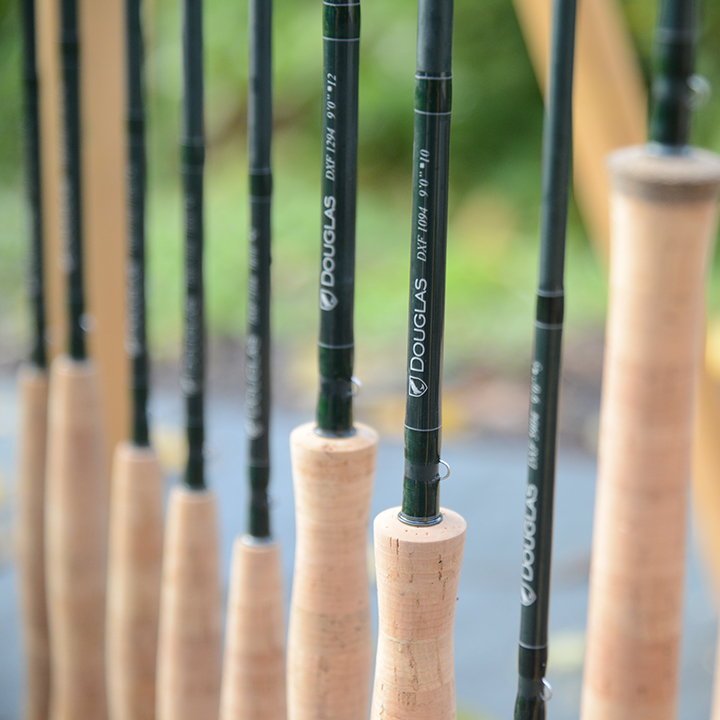 "
Go to rod for lakes and rivers because it has sensitivity and backbone. Casts easily and effectively short and long.
"
"
I have been using the Douglas DXF five weight for about six months now, have fought countless fish on it and have loved every minute of using it. Great action and strength makes for a fantastic experience every time. Highly recommend for any kind of freshwater fishing!
"
"
I bought a Douglas DXF 10' 2wt about 4 weeks ago on a whim. I was looking for a light weight euro rod and to be honest Douglas never crossed my mind. I'm really glad I did! This rod is a beast. I've put some great fish in the net, including landlocked salmon in the 20+ inch range, as well as a 20" smallie and several trout in the 16" to 18" range.I never felt under gunned and this rod had both the flex to protect light tippett and the backbone to land large, aggressive fish. I'm honestly surprised at the level of performance. It's light weight and sensitive put it on par with much more expensive rods. If you're on the fence about Douglas, get off and jump, you won't be disappointed.
"
"
I have a 9' 5 wt DXF and it is an excellent rod, really enjoy using it here in Southern British Columbia
"
"
I bought a 6 weight DXF, and am impressed with it so far. Finish and feel are awesome!
"