DXF

Series
Fly Rods
Not only did they earn the Best Midpriced Rod award from George Anderson's Yellowstone Angler, the Douglas DXF Fly Rod Series is finished with the highest-quality components. High-modulus blanks deliver strength and modern actions that are sure to add precision and grace your presentation skills. XMatrix carbon technology offers a lightweight feel and a sensitivity that alerts you to the softest takes. The extensive lineup of the Douglas DXF Fly Rod Series has a dialed in taper/action tailored to perform in just about every freshwater and saltwater scenario in fly fishing.




Versatile range of lengths and weights covering freshwater, saltwater, nymphing, and switch.
Multi-modulus blank construction, optimizing action in the rods.
XMatrix carbon materials for unbeatable weight and sensitivity.
Finished with high quality components, AAA cork grips, burled wood reel seat, SIC hard chrome snake guides, matte green finish.
Specialty European nymphing rods in 10' and 11', 2-5wt.
Saltwater rods in 7-12wt.
Awarded "Best Mid Priced 6wt, 5wt, and Best Trout Switch Rod" by George Anderson's Yellowstone Angler Shootouts.
Packaged with cordura tube and cloth sock.
Lifetime Warranty on all Douglas Fly Rods.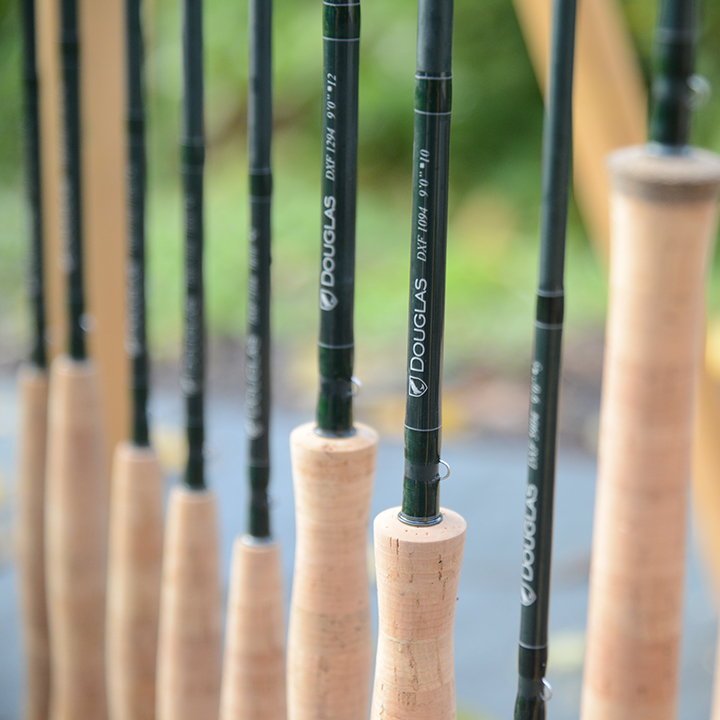 "
Love the action. Great action and strength makes for a fantastic experience. Primary use is on the river from a boat for trout. Throws dry and small streamers easily. Great rod for beginners and advanced casters alike.
"
"
This rod has everything that top end Euro nymphing rod must have! Ultra light , responsive tip and strong butt section. Down locking reel seat, stripping guide closer to handle and two snake guides on tip section. First time on the water I could feel subtle takes and could control big trout out of the strong current! Amazing feel! I can surely say this is now my favorite Euro rod.
"
"
I spent a long time figuring out my next fly rod purchase. I already own an Orvis rod, so I wanted to see what else is out there and I am so happy I did. The Douglas DXF Fly Rod (9'6" 6wt) came with a great warranty, which was a must have for me. The rod action is perfect for my casting abilities and the touch is fantastic for my smallmouth bass lake fishing. I can swing a variety of setups from nymphing rigs for rivers to bass poppers. I love the design as well - it is sleek and looks the part. I also love that the DXF 9'6WT comes with a saltwater grade handle, so I plan on using it for schoolies this fall.
"
"
I bought a DFX 6wt a few years ago and I've never looked back. I even snapped the rod in half, reframed the lifetime warranty, and at only the cost of shipping I got a brand new rod. It's hard to beat these rods
"
"
I have been using the Douglas DXF five weight for about six months now, have fought countless fish on it and have loved every minute of using it. Great action and strength makes for a fantastic experience every time. Highly recommend for any kind of freshwater fishing!
"
---
★★★★★

based on

17

reviews.
Overall rating:
View all reviews