While the Pacific Northwest offers fishing opportunities for salmon and steelhead, the state is blessed with hundreds (thousands really) of fishing opportunities for trout. One of my favorite areas is what the Department of Fish and Wildlife describes at the Central Zone of Oregon. And while there are over a hundred lakes, ponds, and reservoirs (not to mention rivers) distributed across the Central Zone of Oregon's High Desert here are a couple of favorites you might try.
Paulina Lake, located south of Bend Oregon, contains good numbers of rainbow, brown trout, and kokanee. I arrived at the lake just before first light with friend and retired fishing tackle buyer BG Eilertson.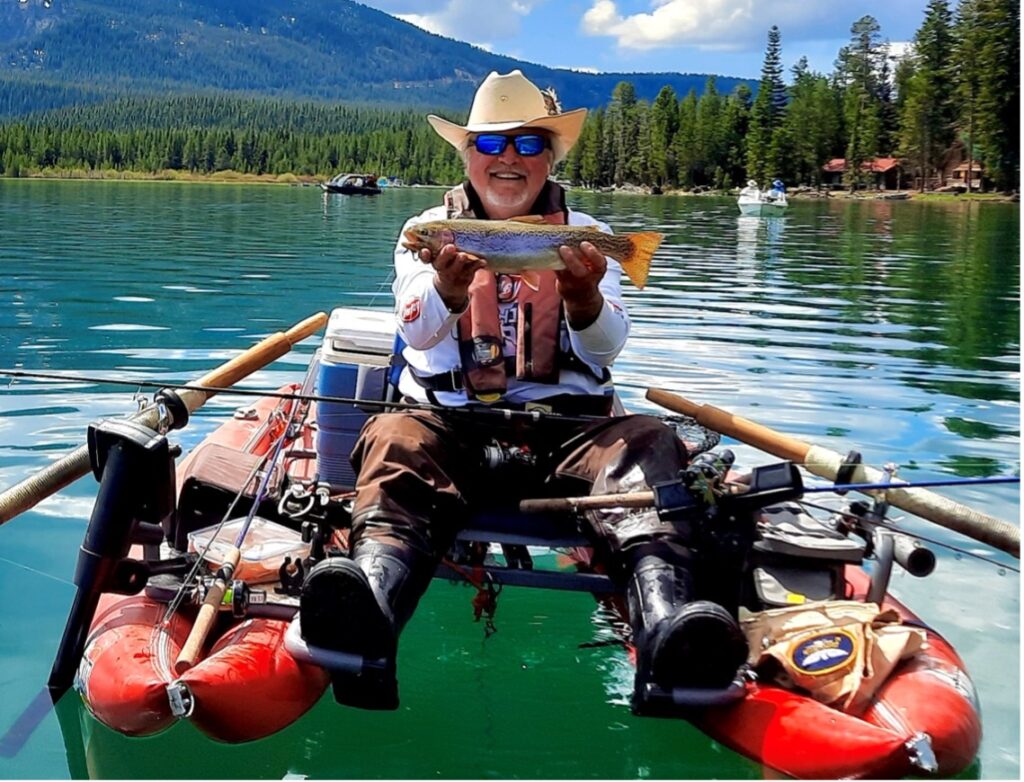 I started off trolling a 2.5 SpinFish stuffed with canned tuna and a squirt of Pro Cure gel rigged 30 inches behind a Cowbell Lake Troll. This worked well as I caught and released more than a few hefty rainbows averaging 12 to 16 inches along with a surprising number of kokanee.
In case you don't know, the SpinFish is a pull apart lure that can be filled with any fresh or live bait, which might include: canned tuna fish, worm or leech; prepared bait like PowerBait, Gulp! or Pro Cure work too. And, because the leader is threaded through both lure halves, there is just no way (bar a line break) you can lose or misplace the lure halves.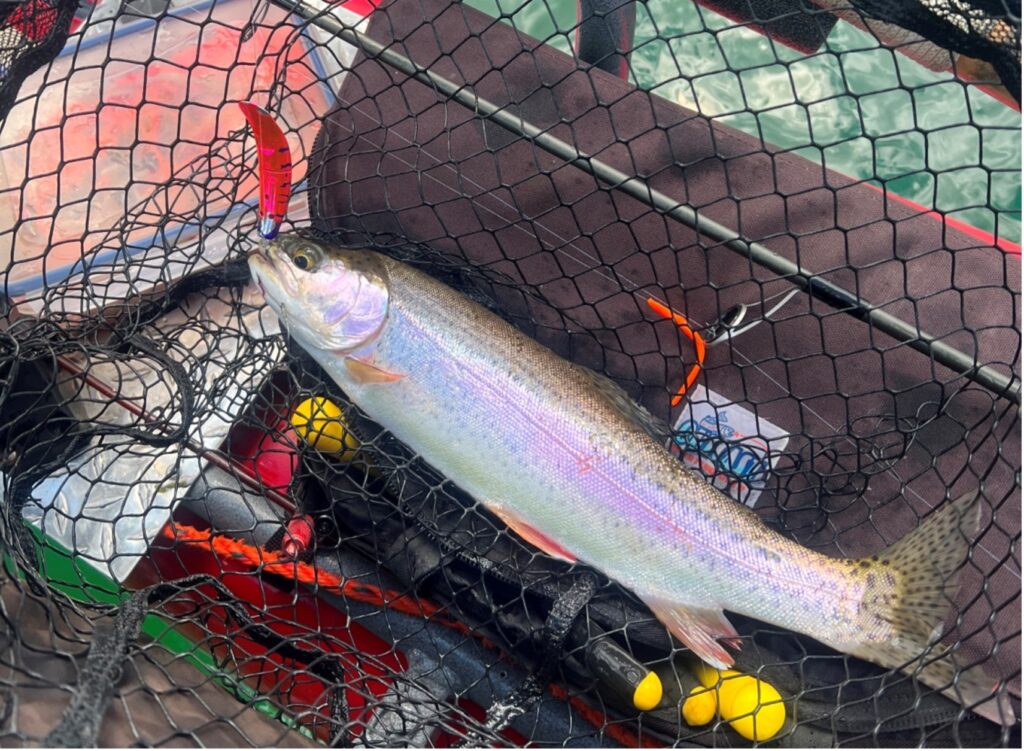 East Lake is another favorite trout destination. I remember first fishing it as a teenager when we'd rented a boat and successfully trolled worms in combination with a Ford Fender. A second time fly fishing with Cory Wells of Three Dog Night fame (RIP friend) and storied fly angler Jim Teeny, and a third time casting spoons for brown trout in October.
Last spring, I lunched in the early-morning hours at the ramp servicing the south side of the lake and began trolling my Cowbell and SpinFish combination across the lake. Although I caught several rainbows in the 15- to18-inch range, this method seemed to not produce all that well as I had to cover a lot of water to catch fish.
It was then that I maneuvered within casting distance of shore and started tossing a 3-inch Berkley trout worm rigged 20 inches behind a number 5 split shot. This worked well as I started catching a mix of rainbow and brown trout on about every fifth cast.
The technique I was using is one called the "Crawl-Retrieve" method. Here's how: Cast your rigged outfit out and reel up any excess slack. Then, let your outfit sink before lifting and lowering your rod tip, reel 10 feet, and lift and lower your rod tip again, etc. Fished this way, nearly all fish will take your artificial, scent-filled worm while it's falling, which may require you to give the trout time to swallow your offering before you set-the-hook.

The tackle I used includes both bait-casting outfits (for trolling in combination with line counter reels) and spinning outfits (for casting). For trolling I used the Douglas LRS C7103-D model. This 7′-10″ rod features a light tip but enough back bone for tackling what might be a large fish.
When it comes to spinning rods for trout, I like rods ranging measuring 7′ to 8′ in length. The reason is that a longer rod facilitates longer casts and increased hook setting power. The ones I used included the Douglas 7′-10″ DXS 7103MF-D, and more flexible Douglas 7′-2″ LRS S7232F.
Now is a great time to plan a trip to this region as the late summer/fall season offers excellent opportunities. If you plan a spring trip keep in mind that much of the area is high elevation and lingering or late-season snow can block or restrict access to some lakes until June. Also, a Forest Service or other applicable pass is required to access the lakes located within the Deschutes National Forest. Keep in mind that for most lakes you are only allowed to keep one trout over 20 inches per day. And while many of the lakes are open all year, Odell Lake and Wickiup don't open until April 22.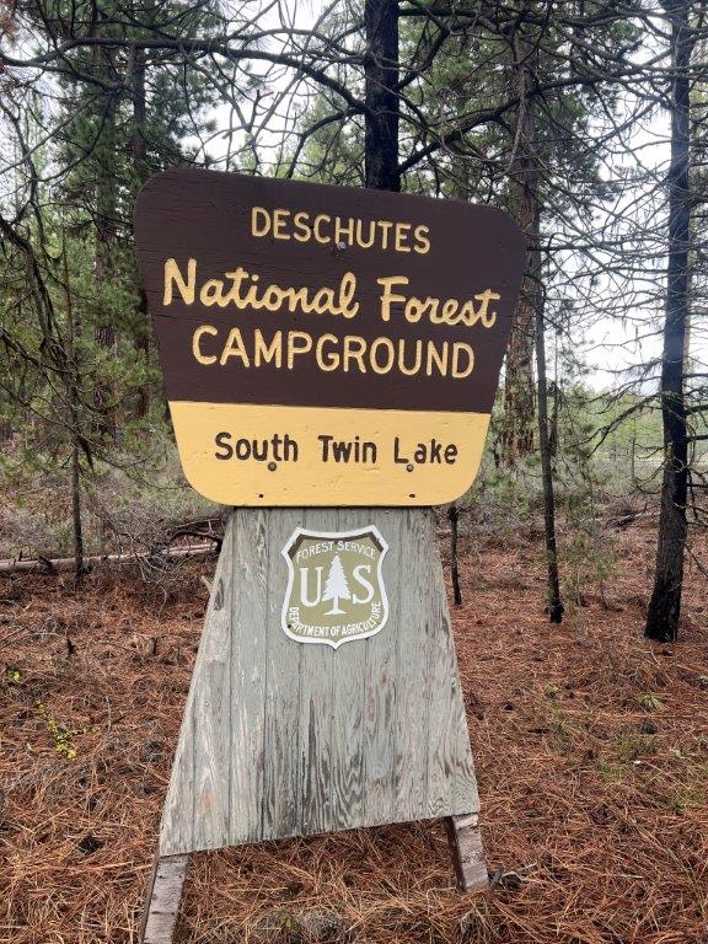 If you are interested in hiring a fishing guide for a Central Oregon trout adventure, try giving Cody Herman of Day One Outdoors TV fame a call, 503-960-9377.
Don't forget to say hi if you see me chasing trout on one of Oregon's High Desert lakes.
Follow Buzz on social media!