The new award-winning Douglas Outdoors SKY G 6-weight Fly Rod is offered in both freshwater and saltwater models. But even if you live a thousand miles from the nearest ocean, don't be so quick to write-off the saltwater version. As you'll learn, some freshwater anglers actually prefer the 6-weight salt over it's smaller brother.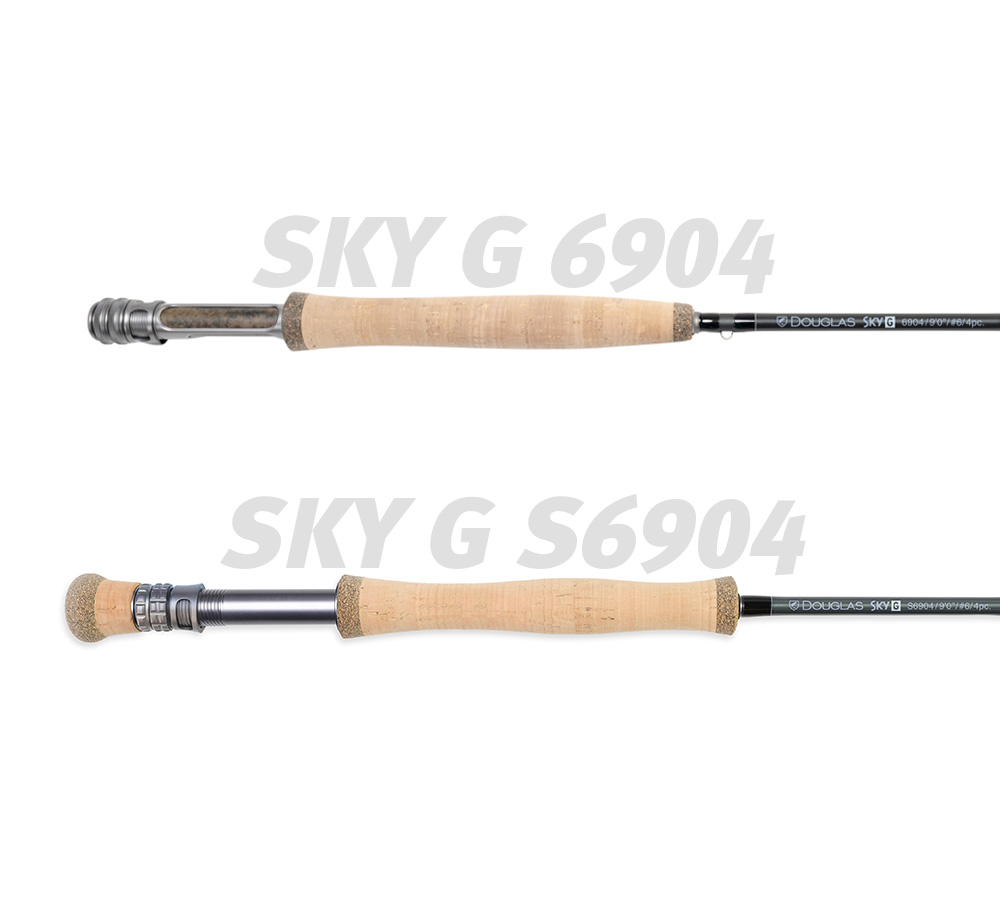 Similarities:
The SKY G 6-weight Freshwater and Saltwater models are both outstanding and comparable in many areas.
Both rods come with top-of-line components.
Both rods are built with the same blanks and have a very similar action.
Both rods offer effortless and accurate casting at all distances.
Both rods come with Douglas' outstanding lifetime warranty and service.
Differences:
The big differences between the two rods can be found in four main areas: Reel Seats, Fighting Butt, Stripper Guides And Handle.
REEL SEATS
The SKY G Freshwater offers a skeletonized aluminum reel seat with burled blackwood insert while the SKY G Salt features a solid one-piece aluminum reel seat. Both reel seats are anodized and offer corrosion protection. However, the solid barrel design of the SKY G Salt is more suitable for ocean angling since there are less areas for salt to collect and hide.
FIGHTING BUTT
The Salt comes with a 1½ " fighting butt to help land those bigger fish. The weight and additional length of the fighting butt actually helps the overall balance of the rod which, in turn, helps to improve the swing weight. It is a small improvement, but an improvement one nonetheless.
STRIPPER GUIDES
Both fly rods feature REC titanium Cerecoil stripper guides with zirconia inserts. However, the SKY G Freshwater comes with a single stripper guide while the SKY G Salt features two stripper guides which are noticeably larger in size.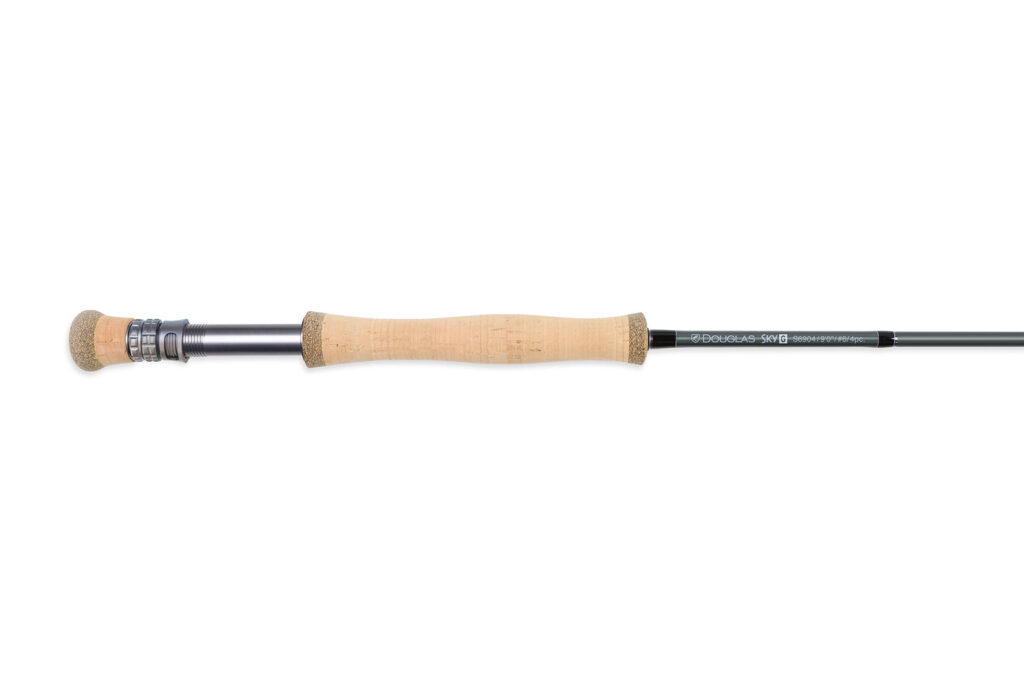 So why the difference?
When fishing saltwater, you typically find yourself targeting weightier, more powerful species which often take longer to land. These extended battles apply extra pressure to the bottom half of the rod which the additional stripper guide helps to alleviate. This is a notable consideration for freshwater anglers who are specifically targeting larger, more aggressive fish like Steelhead.
The larger guides also facilitate the passing of tangles and bulky knots. This design feature is why the SKY G Saltwater ranked number one in the category "Best chance to clear a tangle" in Yellowstone Angler's 2021 6-Weight Shootout.
HANDLE GRIP
The SKY freshwater features a reversed half-wells grip while the SKY G salt features a slightly beefier full-wells design. This choice was intentional as both casting and fighting are typically easier with a full-wells grip when fishing for larger fish.
Additionally, the full-wells grip was modeled with the swell positioned more towards the front. Anglers with larger hands may find this design more comfortable.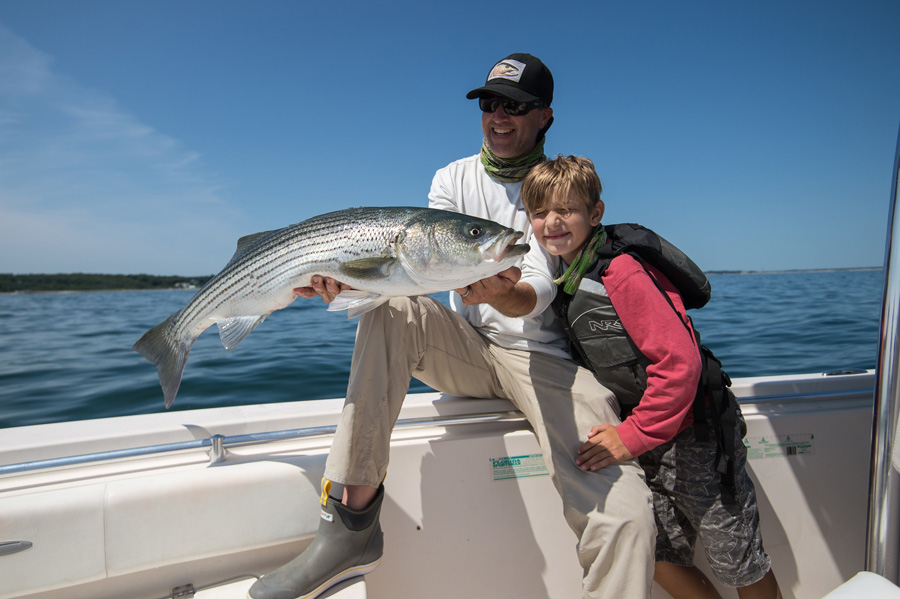 Conclusion
The SKY G 6-weight Saltwater is a good choice for anyone who prefers a fighting butt.
The full-wells grip on the Salt is typically easier to handle for both casting and battling larger fish. Anglers with larger hands may appreciate the slightly fuller design.
Many anglers may want to opt for the Salt version when casting longer distances is a priority and/or they plan on using a heftier setup. This is especially true when switching to a larger reel where the demand for more backing becomes relevant.
Douglas head rod designer, Fred Contaoi, reaches for the Salt version when casting streamers in freshwater, for large indicator fishing, for fall steelhead fishing and, of course, anytime he heads to the ocean.
---
So in conclusion, both SKY G 6-weight fly rods are an excellent choice and offer amazing feel and performance. You can't go wrong with either rod. At the end of the day, the rod you ultimately choose depends on your needs and objectives as an angler. Of course, if you are still uncertain about which rod to add to your arsenal, you can always buy both!