By Spencer Durrant
A few months ago I found myself in a tight spot money-wise. We all get there, and we all find creative ways to get out of them.
One look at my collection of two dozen fly rods was all I needed to know that selling a few wouldn't break my heart – and it'd definitely help my bank account. So I listed a few of the lesser-used rods for sale, hoping they'd get to an angler who loves them as much as I have. Now, I noted a pattern during the sales process. Every buyer asked for more information about the particular rod's action. I thought action was a fairly well-understood aspect of modern fly rod construction, but judging by the questions I received, the angling world could use an up-to-date refresher on the subject.
What is "action?"
A rod's action describes how much it flexes while casting. If you remember the scene in A River Runs Through It where Norman describes how his father taught him to cast, you see a young Norman moving an old bamboo rod in time with a metronome.
The casting stroke is slow by modern standards, but that's due to bamboo being a very slow rod material. Bamboo rods flex throughout most of the blank, often down into the cork. That much bend means your line is traveling slower, which in turn increases the time it takes for your loops to unfurl on both the front and back cast.
Fast-action rods, however, flex as little as possible to generate high line speeds, which decrease the time it takes for loops to form during your casting stroke. Most rods built today are fast-action, since they're easier to cast and offer the best all-around performance in a variety of conditions.

Why does it matter?
Rod action matters for one primary reason – it directly affects your presentation.
Slow-action rods have long been heralded as the best tools for dry fly fishing. The slower casting stroke generates less line speed, which transfers less power through your leader to your fly as it lands in front of a feeding fish. It's easier to get a "soft" presentation with a slower action rod.
Conversely, if you're throwing giant streamers to big trout, a slow rod isn't exactly ideal. You want a rod that's stiff and fast – one that enables you to pick up 50 feet of line and shoot it to the opposite bank in a single cast.
The type of fishing you're doing will dictate what rod action is most helpful. For example, if I was spending an entire day on a Rocky Mountain spring creek (which is where I spend most of my fishing days), I'd likely be fishing dries. A slower rod that allows for a softer presentation is ideal in this situation, because it allows me to lay flies down with minimal surface disturbance. If I find slow pools or beaver ponds – common sights here in the Rockies – then that delicate presentation is all the more important.
Now, rod building has come a long way since Norman MacLean wrote A River Runs Through It. You don't need bamboo if you're looking for a slow-action rod. The Upstream in a 3 or 4wt is a great example of modern graphite rods built to resemble the slow action and feel of bamboo and fiberglass.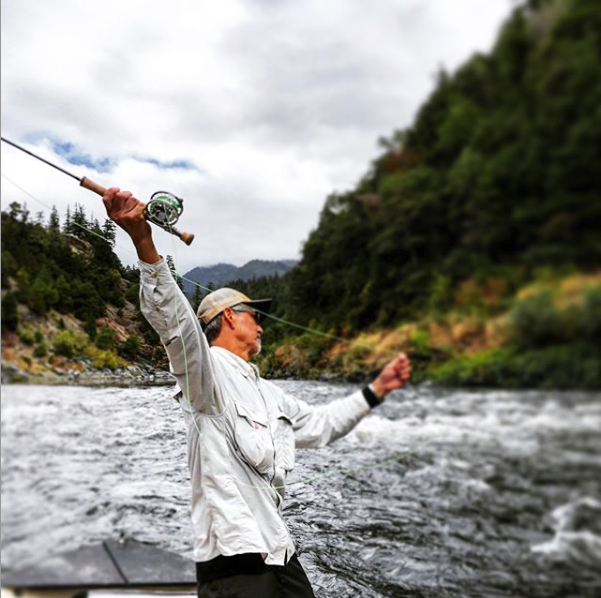 Photo Credit: JD Richey @fishwithjd

What rod action is best for me?
I'm a firm believer that there's no such thing as the "one" rod. I've personally fished north of six dozen fly rods in the past five years, including nearly every flagship model. A few rods have come very close to being the do-it-all stick anglers dream of, but each one falls short in one way or another.
I own two dozen rods – a bit overkill, perhaps – but each serves a distinct purpose. I have fast, heavy rods for still and saltwater fishing; light, soft rods for my beloved Rocky Mountain streams; Euro nymphing rods, and a few that fit squarely in the middle. I like having the perfect rod for any reasonable scenario in which I find myself, and for me that varies from week to week. Over the course of a month this summer, I fished for salmon and grayling in Alaska, bull trout in Idaho, cutthroat in Utah, and brown trout in Wyoming. Each situation dictated a different rod action.
The point of this rambling is to illustrate that you should pick a rod with an action that's ideal for the majority of what you do. If I had to pick my go-to rods based on action from the Douglas quiver, I'd have to go with the following:
• Slow action: 7'3" 3wt Upstream
• Medium action: 8'6" 5wt DXF
• Fast action: 9'6wt Sky
But that's just my opinion. Go visit a local fly shop, cast a few rods, and find the action that best suits you.
Spencer Durrant is a fly fishing writer, outdoors columnist, and novelist from Utah. His work has appeared in publications like Field & Stream, American Angler, Sporting Classics Daily, Hatch Magazine, and other national publications. Spencer is the Owner/CEO of Cutthroat Creative Media. Find him on Twitter/Instagram, @Spencer_Durrant.