Picking the Best 5 wt Fly Rod
Yellowstone Angler has found that the new 5-weight rods are getting better and better each year. Often only subtle differences separate one rod from another. Casting and rating the performance of the rods at different distances is the real meat of our Shootouts, and also the reason we have separated out a chart that includes only the performance figures. The overall results charts show you the various categories we scored the rods at. You can evaluate which categories, such as price, are critical to you when selecting a new rod.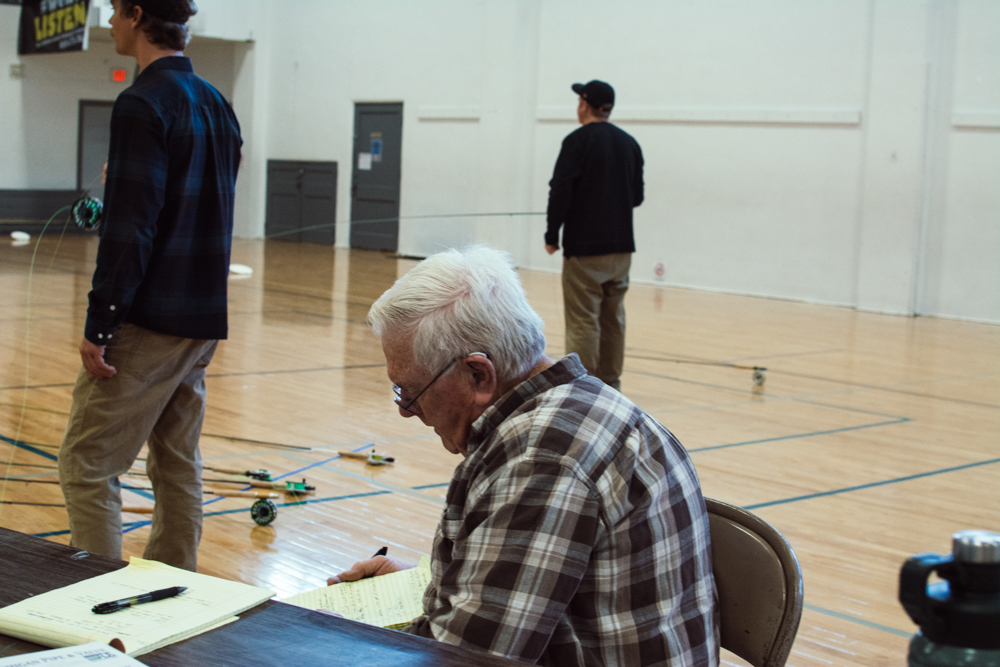 The only good way to pin down these subtle differences is to have at least a half dozen of the contending rods there in front of you with the lines stripped out, stretched and with the leaders straightened so that you can pick up one rod, make a few casts at a certain distance, then immediately pick up another rod and do the same. Those subtle differences thus become immediately apparent. Then we move on to another distance and compare the same rods.
Once YA compiles the points for all the rods at the different casting distances, they then add up points in the other categories to determine the final finishing order.
Keep in mind that what you read here are their opinions. Yellowstone Angler is trying to call it as they see it, in an unbiased manner. YA stands by their methodology as most anglers that take the time to give their feedback, have agreed with their opinions.
A New Format for the 5 WT Shootout
5-weight fly rods are the most popular and versatile of all fly rods for freshwater anglers. Anglers use 5-weight fly rods not just for trout, but also for bass, bluegills, perch, whitefish, carp and even catfish! 5-weight fly rods have become the single quiver rod for many freshwater anglers.
When used for trout fishing, 5-weights are wonderful rods for fishing dry flies but are also great rods for fishing nymphs and small streamers. Many anglers use them only for fishing dry flies, while others use them primarily for nymph fishing, often with an indicator, two nymphs and even some weight like split shot.
One rod simply cannot suit all these purposes perfectly well. Accordingly, YA separated the tested rods into two categories, thus comparing each rod against others, which are best suited for the same fishing application, as follows:
1. 5-WEIGHT PRESENTATION RODS MORE SUITED TO FISHING DRY FLIES THAT GIVE YOU THE ULTIMATE IN ACCURACY, DELICACY, AND PRESENTATION.
2. 5-WEIGHT POWER RODS THAT HAVE THE STRENGTH TO CAST MORE WIND RESISTANT DRIES, AND ALSO CHUCK NYMPHS WITH INDICATORS, AND EVEN SMALL STREAMERS WITH EASE.
5 WT Shootout Results
BEST 5 WEIGHT RODS IN THE PRESENTATION CATEGORY:
1. The amazing new Douglas Sky G wins in both Overall and Performance categories!
2. The new G. Loomis NRX+ LP comes in 2nd followed closely by the Orvis Helios 3 and Hardy Zephrus.
3. The Hardy Shadow is our pick for the best mid-priced rod.
4. The Fenwick Aetos is still the best inexpensive rod.
5. The new Sage LL and the Winston Air were disappointing and finished at the bottom of the pack.
---
*This is only an abbreviated version of Yellowstone Angler's extensive Shootout/Review of 32 different 5 weight rods.
Douglas SKY G Wins Best 5 Weight Fly Rod!
Try the new Douglas Sky G – the best 5 weight fly rod!

Find a Douglas Fly Dealer Near Me
Visit your local fly shop to cast the new SKY G and test it for yourself! Or visit an online dealer to purchase the rod and have it shipped to your door.