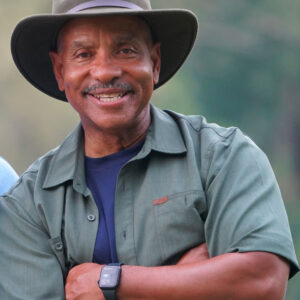 Colorado Springs, Colorado
Mr. Eugene E. Jiggitts, Jr. presently works as the Store Manager and a Flyfishing Guide for The Peak Fly Shop, in Colorado Springs, Colorado.
Mr. Jiggitts love for flyfishing is constantly exhibited every year as a guide and counselor when he voluntary works with the Boy Scouts of America during their summer camp program on the Flyfishing merit badge. He also supports the military veterans who belong to Project Healing Waters during their fly-tying seminars and other instructional programs.
Traveling throughout the United States and abroad, Mr. Jiggitts is expanding his flyfishing adventures along with meeting new people and sharing his love for the sport. His passion and love for flyfishing is contagious and people who he meets flock to him to share in his knowledge and exuberance.
Mr. Jiggitts retired from Headquarters Federal Aviation Administration (FAA) as the Senior Advisor to North American Aerospace Defense Command (NORAD) and United States Northern Command (NORTHCOM) as the principal advisor to the Commander. He additionally had working relations with Intelligence Agencies supporting classified operations throughout the world. Mr. Jiggitts also retired from the United States Air Force after serving 20-years in the as an Air Traffic Controller.
He holds a Baccalaureate Degree in Business Management and a Master's Degree in Aeronautical Science from Embry-Riddle Aeronautical University with a 4.0 G.P. A. Honor Graduate with competencies in Aerospace Operations and Aviation Safety Systems. He also served as an Adjunct Professor for Embry-Riddle Aeronautical University at Andrews AFB, for their Graduate program. Finally, Mr. Jiggitts is an Eagle Scout with the Boy Scouts of America.