Euro nymphing or tight line nymphing, has become widely popular with trout anglers from all corners of the country and across the globe. Find a trout stream and you'll likely find a fisherman utilizing the Euro nymphing technique.
Its effectiveness is well documented and is a direct result of delivering flies straight to the living room of trout. Low water or high water. Winter, spring, summer or fall. The Euro nymphing technique has changed the way many trout anglers approach rivers and streams.
Euro Nymphing Tackle
Let's begin with the tackle used in Euro nymphing. This style of fishing relies on longer fly rods and is performed single-handedly. Most nymphing fly rods fall in a range between 10 and 11-feet in length with varying hardware configurations.
Reel seats are down-locking and the stripper guide is typically much closer to the reel. Fly lines are level, thin and not used for casting so much as having a fly line between your fingers. Leaders are long and the flies can be fished down in the water column, as well as placing flies going back up your leader to imitate bugs at different water depths imitating emerging insects. Reels tend to be slightly oversized to compensate for the longer rod lengths. This also helps to balance the fly rod so it fits more comfortably in your hand.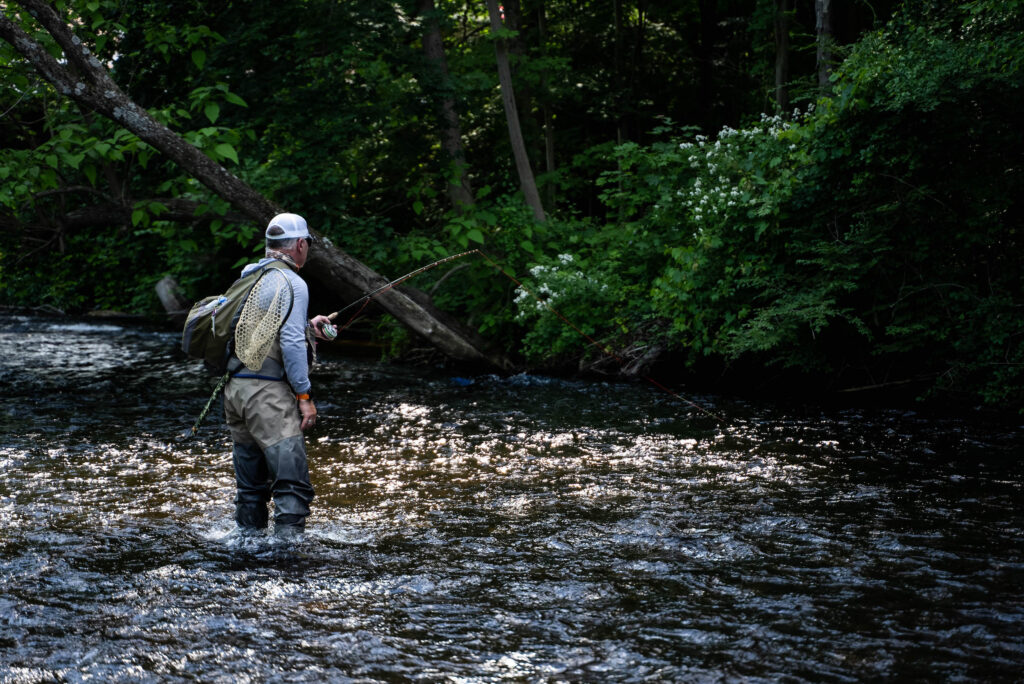 "IF YOU'RE NOT ALREADY USING TIPPET RINGS, THEY ARE WORTH CONSIDERING. THEY WILL SAVE YOU BOTH TIME AND MONEY IN THE LONG RUN."
Euro Nymphing Setup
When Euro nymphing, the angler is "one with the fly" so to speak. It's important that every little bounce, tumble and tick can be felt on the river floor. Because of this, flies are mostly sparse, small and heavily weighted. This allows them to gain access below the water line to the trout haunts along seams, boulders, rocks and in possibly heavy turbulent current.
Changing water conditions? No problem. Simply tie on a lighter or heavier fly as needed and adjust the leader length.
Strike indicators are used in Euro nymphing but are unlike the brightly colored bobbers typically found on trout streams. The strike indicator in this case is named a sighter. Sighters are made from bright multicolored monofilament in the long leader system.
While the multi colored sighter allows an angler to visually observe a potential fish taking their fly, they also have the added benefit of feel. A good nymphing rod allows an angler to pick up on subtle strikes that they might have missed otherwise.
From there, most anglers use a tippet ring. A tippet ring allows an angler to quickly and easily switch flies or change tippet lengths without shortening the main leader at the end of the sighter. More often than not, anglers use two or more flies on long thin leaders while fishing this technique.
Flies are fished on a short line or leader with the rod leading the flies down-current, below the rod tip. In traditional fly fishing, the fly may be 50 feet or more from the rod tip with the fly line needing to be mended often to keep from dragging along the surface current, taking your flies out of the strike zone. This is the great advantage of Euro nymphing as you're able to stay in the strike zone longer where trout spend a majority of their time feeding.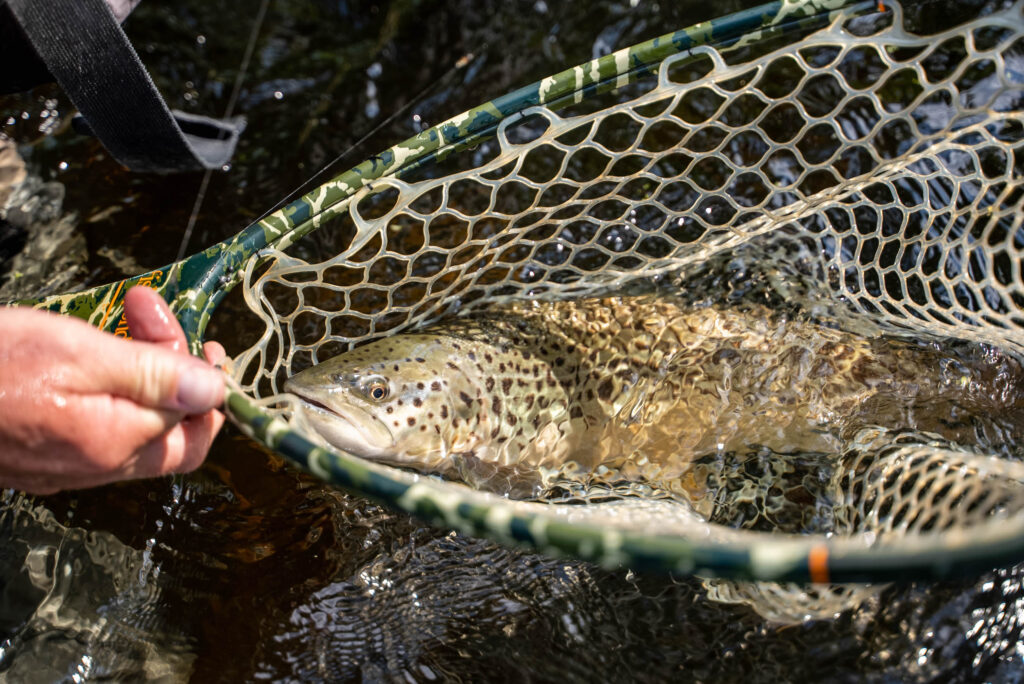 The Best Rod Length for Euro Nymphing
As mentioned earlier, most Euro nymphing rods will fall between 10 and 11 feet in length. Rod lengths can certainly be longer or shorter than that. But most anglers will want to stick within that range for a two, three or four-weight rod.
Rod length should also be a consideration depending where you fish and how you travel from place to place. Many recreational anglers in the Rocky Mountain region will quickly move from one section of river to another, as many of the roads follow alongside the rivers. In this case, many anglers opt for a 10-foot rod length with a car-top rod carrier. Rod carriers allow anglers to store their rods above their vehicle, fully assembled and ready to go.
Most of the commercial car top rod carriers cater to ten-foot rod lengths, thus the reason for the length choice. For those that are not utilizing carriers, they may want to consider a longer rod as they offer distinct advantages such as longer drifts and added reach.
Here at Douglas, we are obsessed with rod weight balance, understanding the profound effect that miniscule changes can make over the course of a day on the water. That's why most of our nymphing rods weigh less than a pack of playing cards.
With that being said, the best length for a Euro nymphing rod is the one that fits you best. Often it comes down to individual preference and the water you fish.
"YOU GET WHAT YOU PAY FOR, SO GET THE BEST THAT YOU CAN AFFORD AND YOU CAN'T GO WRONG."
GEORGE ANDERSON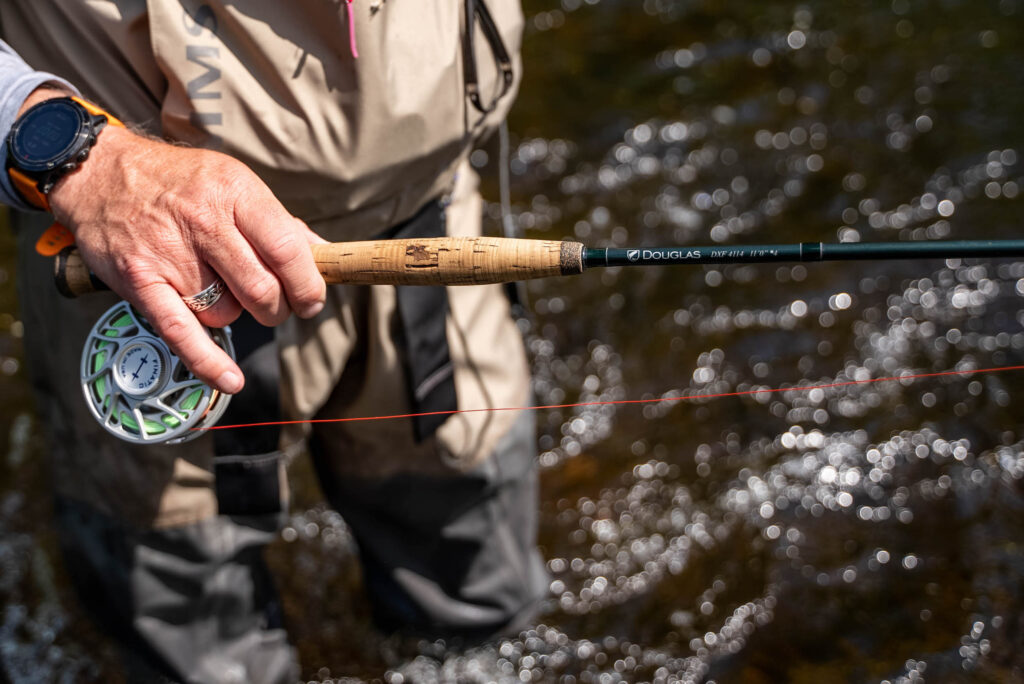 The Best Euro Nymphing Rods
Price and quality are the next consideration in choosing a Euro nymphing fly rod. While most newer rods in this category will get the job done, there are certain qualities to look for.
Most rods built for Euro nymphing are built in a four-piece configuration.
It is imperative that the rod feels balanced in your hand with your reel of choice. A couple of ways to achieve this is to upsize your reel a bit and choose a rod with a down-locking reel seat. Balance is important as your arm will be extended while fishing the Euro nymphing method.
The rod must be sensitive and light in the tip while becoming progressively faster as you move down the blank toward the foregrip. It helps to have a guide on the section of the rod closest to the reel minimizing line slack. Slack really hurts performance when Euro nymphing as it negates the ability to feel every little tick and bump.
Less expensive rods tend to be heavier because lightweight components are typically more expensive. Moreover, in an effort to keep costs down, hardware and cork are lower quality.
The blanks in lower price point rods tend to be made of a lower generation graphite. This results in a rod that is not as responsive or as sensitive as a higher end rod. That being said, if you are rough and tumble with your equipment or fish in areas with thick brush or rough terrain, a less expensive fly rod should fit your needs equally as well.
At the end of the day, expect to spend anywhere from a few hundred dollars to over a thousand for a complete rod, reel and line setup. When it comes to price and quality, the buyer must ultimately decide what rod fits within their budget or simply just feels the best in their hand.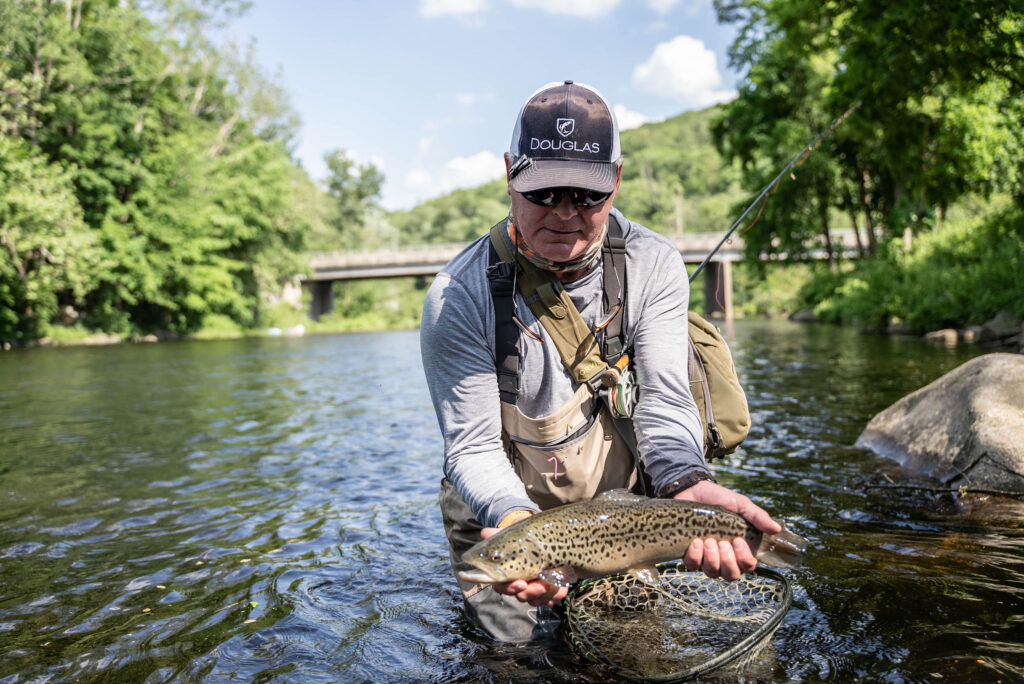 Douglas Euro Nymph Rods
Douglas offers nymphing fly rods in the LRS, DXF and Sky series. Sizes range from 10 to 11 feet in length and are offered in 2, 3, 4 and 5-weights. All rods come in a 4-piece design.
The Douglas SKY fly rod series is the pinnacle of fast action, superior performance salt and freshwater fly rods. This series of versatile four-piece rods is constructed with patented next generation nano carbon Xmatrix materials and the highest quality components.
The Douglas DXF fly rod series is finished with high-quality components and high-modulus blanks that deliver strength and modern actions. These fly rods are sure to add precision and grace your presentation skills. The DXF earned the Best Mid-priced Rod award from George Anderson's Yellowstone Angler.
The Douglas LRS fly rod series brings high-end performance with a price-point every angler can enjoy, redefining the value expected from a fly rod without the premium price tag. Each model has been finely tuned to find the perfect action that meets the needs of veteran anglers and beginners alike.
In our design process we keep in mind there are often hatches that will occur while you are nymphing. At that point and time it is good to keep a spare spool with a floating fly line so you can switch out and take advantage of the hatch. All of our nymphing rods cast a dry line well so you won't need to carry two rods while you are down on the stream. A rod that can cast a dry line and nymph is key to making the most of the situations on the river.
Here's a quick run-down of each of our nymphing series rods.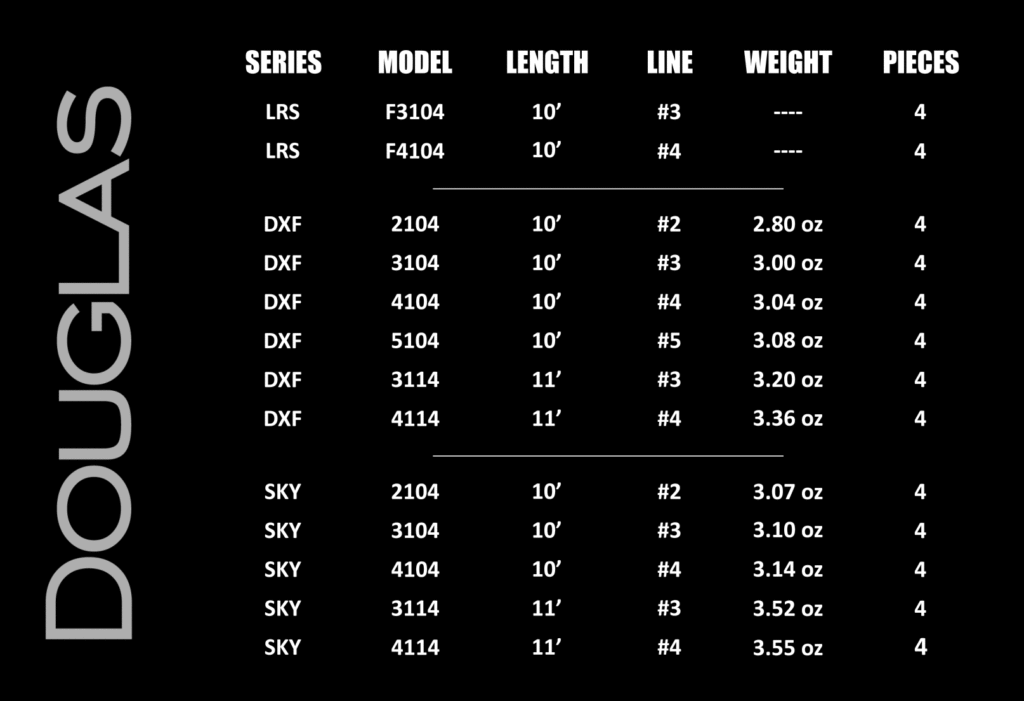 Conclusion
Most rod lengths for Euro Nymphing will fall between 10 and 11 feet.
10-foot rods are easier to transport and are less taxing on your arm and shoulder.
11-foot rods offer more reach and a longer drift.
Reel seats are typically down-locking with the stripper guide closer to the reel.
Flies are less bulky and are designed to sink fast below the water surface.
Tippet rings are a huge time-saver and facilitate the changing of flies.
A light and balanced rod is critical for best performance.
Rod sensitivity is an important consideration as you will be relying heavily on feel.
In lieu of bobbers, sighters are used as a strike indicator.
Less expensive rods tend to be heavier and feature components that are lower quality with blanks that are less sensitive.
As George Anderson likes to say, you get what you pay for, so get the best that you can afford and you can't go wrong.
Euro nymphing might not be as flashy as dry fly fishing, but the results can not be ignored. If you like to catch fish, then this technique is for you.
If you are interested in getting started in Euro nymphing, feel free to check out our extensive line of fly rods and contact us with any questions. When you're ready to make a purchase, you can shop online or visit one of our authorized Douglas dealers here.
Fred Contaoi
Head Rod Designer, Douglas Outdoors