I've spent most of the past decade reviewing fly fishing, hunting, and outdoors gear. Throughout that time, I reckon I've fished north of 100 different fly rods.
To this day, I still find myself spending too much time choosing which rod to bring to the water on any given day. Granted, I have a fly rod collection that really does need to be thinned down some, but the fact remains that picking the right fly rod isn't easy.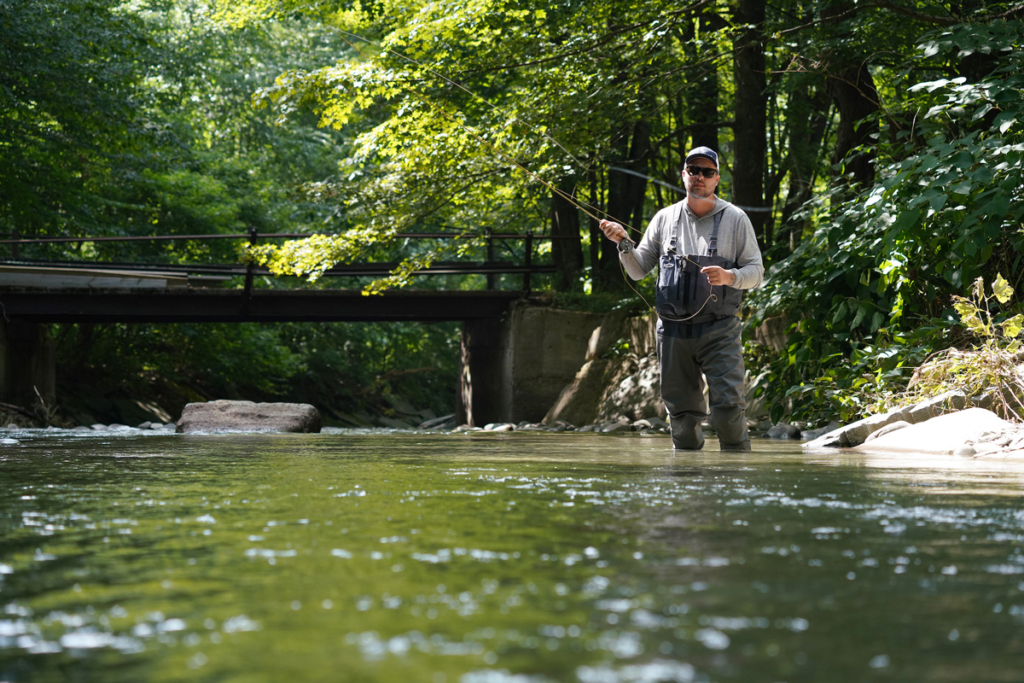 Regardless of your experience in fly fishing, most of us could use a refresher on what to look for in a fly rod. Whether you're just starting out and don't know what you don't know, or you've been at it for decades and all the new terminology is intimidating, don't worry. This guide should help you cut through the noise and pick the stick that'll serve you best in any given fishing situation.
By Spencer Durrant
Here's How to Choose a Fly Rod:
Consider the Water
The biggest factor in choosing a fly rod is what type of water you're going to fish. I grew up in the Rocky Mountains, fishing tiny high-country trout streams full of tiny high-country trout. It's no wonder that most of the fly rods sitting in my home office are short, light-line-weight affairs. The collection looks vastly different than that of one of my fishing guide buddies who spends a lot of time throwing big streamers from a drift boat.
Now, as with all things in fly fishing, exceptions exist to these rules, but they're good guidelines to start from.
Creeks
Creeks are where I cut my teeth as an angler. As such, they have a special place in my heart. These are tiny pieces of water, rarely wider than 10 feet, and not more than chest deep. The fish aren't big – a trophy might be 15 inches – but they're plentiful, enthusiastic, and seemingly as happy to be there as you are.
Since most creeks are so small, it doesn't make sense to use a bigger rod on this water. Light, short rods were made for this kind of fly fishing. I often reach for my 6' 4wt, 8'6" 4wt, a 7' 3wt, or on windier days, an 8'6" 5wt. The other thing to consider with creeks is if you're fishing just a dry fly, or dry-dropper rigs.
Rods I Recommend for Creeks: 8'6" 4wt Sky G, DXF 9' 3wt, Upstream 6'6" 3wt, Upstream 8' 2wt, Upstream PLUS 9' 4wt
Streams
Let's assume that these are waters that don't get much over 20 feet wide, 6-10 feet deep, and are generally accessible via wading. This makes up a large portion of trout water in America, in both the West and the East. Let's also assume that most of the trout in these streams and creeks top out at 20 inches, max – maybe 22 if you're really lucky.
This is the kind of water where I'd personally reach for a 7'6" 4wt, 8'6" 4 or 5wt, or maybe a 9' 6wt. The shorter, lighter rods lend themselves well to covering smaller water, especially if you're fishing beneath fly-hungry willows and cottonwoods. Anything bigger than a 6wt is overkill on streams most of the time, and I'd rarely, if ever, fish a rod longer than 9 feet here. A good 9-foot rod is going to enable you to dead drift flies through nearly every pool and riffle you can see. If not, the 10-foot Euro nymphing rods will fill the gap.
I recommend the lighter weights here as well because they're capable of more delicate presentations, which is key for clear, smaller water. More than once I've been caught in the middle of a good mayfly hatch with a 6wt that just can't lay the size 20 emergers down softly enough to not spook fish.
Rods I Recommend for Streams: LRS 8'6" 5wt, Upstream PLUS 9' 4wt, DXF 8'6" 4wt, Sky G 9' 5wt, DXF 11' 3wt
Rivers
Any water that's not a creek or a stream is, by definition, a river. These are big waters, like the Delaware or the Madison. They demand power, finesse, and pinpoint accuracy. Most tailwaters are rivers, and those trout are notoriously picky when eating dry flies. And they've likely seen every garish nymph from the nearest fly shop, too, so you have to get creative in both your presentation and what you're presenting.
A large part of that creativity lies in the rod you pick. On rivers, I'm hard-pressed to give up my 9' 6wt. That's more personal preference than anything, since a 9' 5wt will do just fine. But I like throwing streamers, and a 6wt is just so much better for that.
Regardless, the theme on rivers is to bring a big stick. You'll need it, either against big fish, big current, or big wind.
Rods I Recommend for Rivers: Sky G 9' 5wt, DXF 9' 6wt, LRS 9' 5wt, Upstream PLUS 9' 6wt

Choosing the Right Fly Rod – Consider the Fishing
In addition to the type of water you're fishing, rod choice is heavily influenced by the type of fishing you want to do. Again, my preference on 90% of the water I fish is to use a dry-dropper-dropper rig. That means I stray away from the 2wt rods (although I fish the ones I own frequently) in favor of something with enough backbone to turn over a long, heavy leader.
Most folks will want something that'll cast a dry-dropper on any water. That sort of strength serves you well whether you fish nymphs below an indicator, small streamers, or go with an actual dry-dropper rig. It also helps to have a rod with that sort of backbone when the big bugs come out and you're pushing foam flies through the air.
If you're looking for something to throw big, heavy flies with on big, fast water, then you're really looking at just the 9' 6wt rods and up. I have a few 7wts that I fish often on trout water – a line weight that's surprisingly overlooked these days.
Anyways, the point here is that you have to consider both the water and fishing style into your rod choice. That's why I've made this handy table, to help simplify matters a bit.

What Weight Fly Rod for Trout

Fishing Style – Water Type
Creeks
Streams
Rivers
Dry Flies
Upstream (Weights 2-4)
Upstream PLUS (4 or 5wt)
Sky G (4 or 5wt)
DXF (Weights 3-5)
LRS (4 or 5wt)
DXF (4 or 5wt)
Sky G (5wt)
Upstream PLUS (Weights 4-6)
DXF (5 or 6wt)
Sky G (5wt)
Upstream PLUS (5 or 6wt)
Dry-dropper-dropper
LRS (4 or 5wt)
DXF (4 or 5wt)
Sky G (5wt)
Upstream PLUS (4 or 5wt)
LRS (5 or 6wt)
DXF (5 or 6wt)
Sky G (5wt)
LRS (5 or 6wt)
DXF (5 or 6wt)
Sky G (5wt)
Upstream PLUS (5 or 6wt)
Nymphs
LRS (4 or 5wt)
DXF (4 or 5wt)
Sky G (5wt)
Upstream PLUS (4 or 5wt)
LRS (5 or 6wt)
DXF (5 or 6wt)
Sky G (5wt)
Upstream PLUS (5 or 6wt)
LRS (6wt)
DXF (6wt)
Sky G (5wt)
Upstream PLUS (6wt)
Streamers
DXF (5 or 6wt)
Sky G (5wt)
Upstream PLUS (5 or 6wt)
LRS (5 or 6wt)
DXF (5 or 6wt)
Sky G (5wt)
Upstream PLUS (5 or 6wt)
LRS (6 or 7wt)
DXF (6 or 7wt)
Sky G (5wt)
Upstream PLUS (6wt)
Again, there's nothing that says my outline is gospel truth. However, having fished the entire Douglas line, and with nearly a decade of reviewing rods behind me, I feel confident in these recommendations. You can always tweaks the rod selections and weights above to suit your specific waters, which is half the fun of this sport anyways.
---
Spencer Durrant is a fly fishing writer, guide, and bamboo rod builder from Utah. He's the News Editor for MidCurrent, and a columnist for Hatch Magazine. Connect with him on Instagram/Twitter, @Spencer_Durrant.